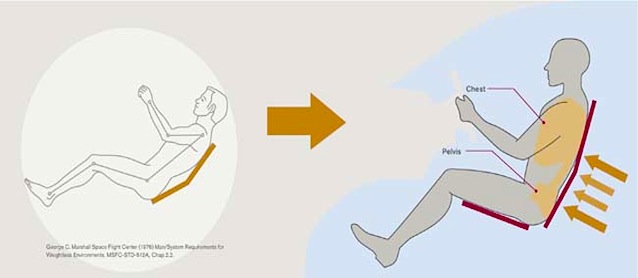 Nissan has partnered with researchers at Keio University and NASA to introduce the world's first ever "fatigue-free seats" – which are designed to reduce stress on drivers' bodies and keep them more alert.
Wired Magazine explains:
In the ongoing battle to keep drivers from getting sleepy, Nissan has debuted what they call "fatigue-free seats" that are designed to equally distribute the driver's weight so discomfort and stress are kept to a minimum while seated for extended trips.
The design is based on research identifying a "neutral posture," similar to the way the body relaxes when let free in a weightless environment. Let the muscles in your hands relax and your fingers naturally curl rather than lay flat – it's the same basic premise. The seat layout assigns support around the body so each muscle and spinal section supports as little weight as possible. Along with muscle and spinal alleviation, Nissan says the seats will improve circulation and reduce fatigue by 30 percent on long drives compared to a standard seat design. [more]
As an avid road-tripper, I have to admit that sitting in a driver's seat that reduces fatigue by minimizing cramps sounds awesome. I just hope that it doesn't have the opposite effect, and feel so comfortable that I still fall asleep. After all, doesn't a chair that makes you feel weightless sound like the perfect place to take a nap? For drivers like me, Nissan may have to include an additional feature that keeps drivers alert – like Cadillac's vibrating car seat.
In any case, check out this cool video that Nissan put out to explain the new technology: