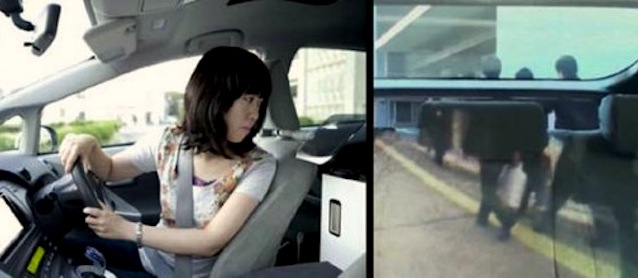 Japanese researchers at Keio University have developed the world's first pseudo-transparent car. Through a clever use of cameras, the vehicle projects an image of its outside surroundings onto its interior so that its driver is able to park easier and more safely.
The DailyMail, which likens the new car to the see-through Aston Martin that James Bond drove in "Die Another Day", explains:
The car appears transparent from the inside, allowing drivers to 'see through' the rear bodywork. […]
The way it works is two cameras on the boot lid capture a full view of the scene behind the car.
The Sunday Times reports that the images are combined by computer and reflected onto the seats to create the illusion that the back of the car is transparent when looked at from the driver's seat. […]
A Japanese car manufacturer is said to be already working with the laboratory to put the technology into production. [more]
It's not clear whether or not the car will need to be upholstered in a film-screen type of material for the technology to work, or how a bright cabin can affect its picture resolution. Once more information on the project is released, we'll bring you all the details.
[photo via Genius Beauty]