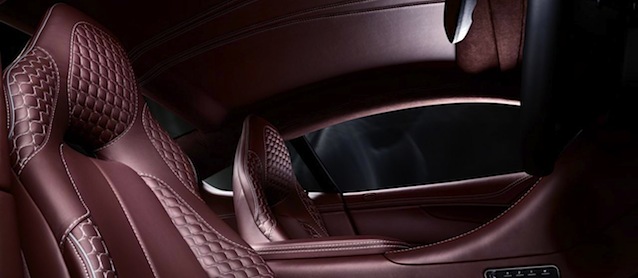 Aston Martin – arguably the world's leading automaker when it comes to interior design – is back with another amazing pleat. This one is called the "hourglass" stitch and is featured on the seats of the 2013 Vanquish.
The "hourglass" stitch is comprised of mirrored squiggly lines sewn at an angle with small straight lines sewn tangent to their curves – giving the pleats the appearance of an hourglass shape.
At first glance, the "hourglass" stitch doesn't look as difficult to pull of as its counterpart, the Zagato Wave – but it may, in fact, be more of a challenge. A closer look at the Vanquish's seats reveals that the arms of the hourglasses are separate and do not touch. In other words, a sewing machine operator must sew each line one by one, tying off the thread.
According to Aston Martin, the Vanquish's quilted interior features roughly one million separate stitches. Labor intensive detail like that explains and helps justify its nearly $300,000 price tag.
But did Aston Martin's designers hit their mark? Let us know what you think of the Vanquish's "hourglass" stitch in the comments section below.