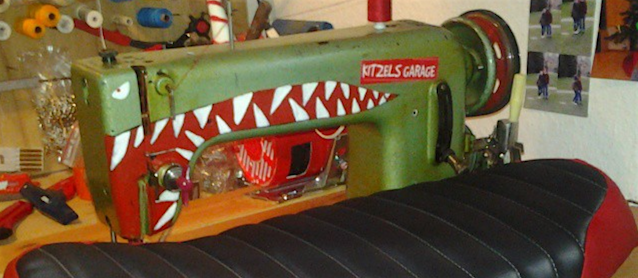 Every auto trimmer loves his sewing machine. But not everyone expresses that love in the same way. While some keep their machines tuned, oiled and in top factory condition, others soup them up with cool graphics, custom paint jobs and even soft-touch surfaces.
We dug through some of our favorite shops' Instagram accounts to find examples of souped-up sewing machines. Some are more wild than others, but they're all super cool. Check them out:
1. The French-Seam Faceplate
Trimmer Tom Cosserat (@hurleyquin_stitchin) excitedly writes: "Pimped my Pfaff!"
2. Skulls and Bones
German trimmer @kuttenschneider airbrushed skeletons on his machine to match his tattoos.
3. Drive it Like a Bimmer!
Finnish trimmer @jykar wrapped his machine's foot pedal in red Alcantara embossed with a BMW "M" logo. He jokes: "Maybe it will go faster and corner better."
https://www.instagram.com/p/BF8rks_nmdx/
4. Drop Bombs On It!
The good folks at @Kizels_Garage painted their sewing machine to resemble the menacing face of a WWII bomber plane!
5. Diamonds are Forever
Not into French seams? Wilson's Custom Upholstery (@stitchin_wilson) souped up their sewing machines faceplate with a traditional diamond pleat.
What do you think? Would you soup-up your sewing machine? Let us know in the comments section below. If you've already done something wild to your machine, show us some photos!