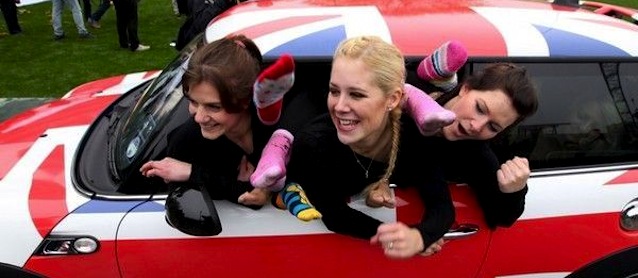 With new vehicles getting smaller and people's waistlines getting bigger, it's becoming increasingly more difficult to squeeze into cars. No one knows this better than auto trimmers, who spend a lot of time working in cramped backseats.
Despite our years of experience, 28 gymnasts from Sussex, England recently put us to shame by becoming the Guinness World Record holders for most people stuffed inside a 2012 Mini Cooper hatchback.
The Huffington Post reports:
Organizer Dani Maynard was part of last year's attempt which shoved 27 women into the tiny car and said they learned a lot from that attempt. […]
To help stretch every participant to their breaking point, Maynard made sure the training regime included extra stretching and hula-hoop relay racing.
It took 10 minutes for all the women to get inside with all doors and windows shut for at least five seconds.
After the 28 gymnasts packed themselves into the Guinness book for this record, 23 of them went on to set an additional record for Most People Inside A Classic Mini, a car that TopSpeed.com points out is even smaller than the modern Mini. [more]
Strange – but at least we now know the secret to squeezing into the backseat of a pint-sized car. Come April, The Hog Ring will be hosting the auto upholstery industry's first annual hula-hoop relay race.
Just kidding…