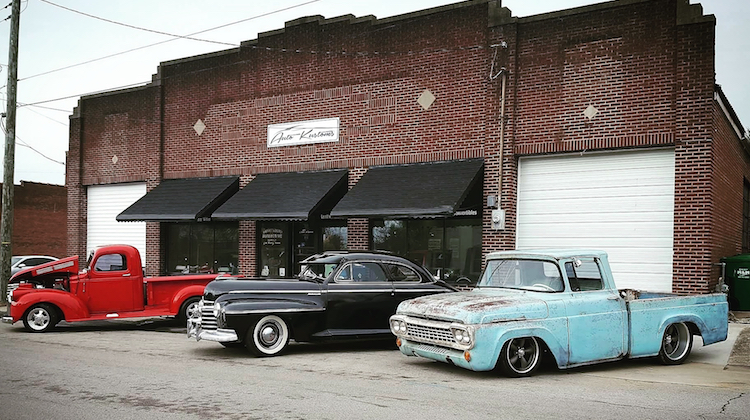 Although our "Meet the Trimmer" series typically focuses on one trimmer, we decided to widen our latest installment to include all three craftsmen behind Auto Kustoms.
It was only two years ago that industry veterans Erik Demonbreun and Jonas Taulbee teamed up to open their shop in Harrodsburg, Kentucky. However, they quickly built a reputation for fabricating and upholstering eye-grabbing custom interiors.
Today, Auto Kustoms is one of the Bluegrass State's premier auto interior and restyling shops, and is highly sought after. With business booming, they even brought on another trimmer, Chris Pirrman.
Each of the three trimmers followed a unique path to auto upholstery. And while none of their stories are alike, what they all have in common is a deep passion for the craft and an insatiable desire to learn and innovate.
We spoke with the guys about how they got their start, as well as their likes and dislikes about the industry. Let's meet the trimmers…
Name: Erik Demonbreun
Experience: 23 years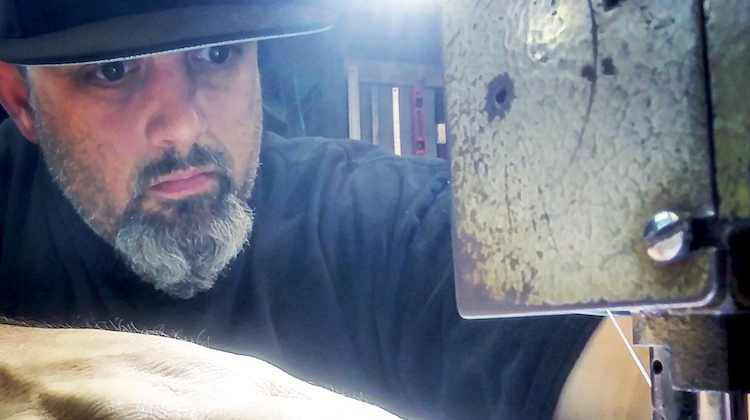 Name: Jonas Taulbee
Experience: 17 years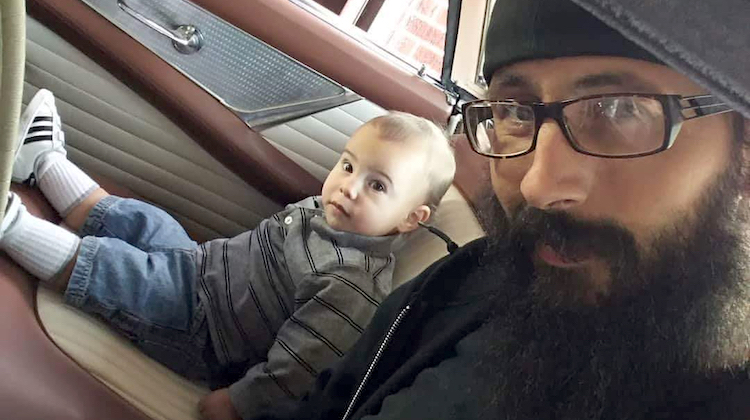 Name: Chris Pirrman
Experience: 2.5 years
Business: Auto Kustoms
Location: Harrodsburg, Kentucky
Facebook: Facebook.com/autokustoms
Instagram: Instagram.com/auto_kustoms
Equipment: Pfaff 145, Consew 206RB5 and Tacsew T111-155,
How did you learn auto upholstery?
Erik: Initially, I took some adult education classes in Ocala, Florida, but ended up only learning how to do headliners. I asked my instructor if he could find me an opportunity to learn as an apprentice at a real shop. He ended up getting me on with a local shop, but the opportunity was short lived due to my car taking a crap on me. I couldn't bum rides to an apprenticeship and to my actual job, so I had to drop the apprenticeship. It wasn't a big loss though because the owner wouldn't let me do any actual trim work anyway.
Fast forward a few years while working as an auto detailer at a Honda dealership, a guy came to the lot in his van outfitted to do trim work on the spot. I got that itch again to pursue auto upholstery and started talking to him about my dream to do lowrider interiors. One day he came by the shop and told me he got "us" a shop to work out of and that I could quit detailing and come work for him. He said he'd teach me everything I needed to know. Well he had family issues come up and had to sell the biz. I still didn't know how to sew at that point. My buddy Ben that tinted windows there offered to buy the business, but only if I was sure I could figure it out. I promised I would and I did for the most part anyway.
In 1999-2000, I moved on from there and started my own thing in an 8×10 shed in my buddy's back yard. I was on a mission to become the best around. I studied interiors in magazines and at car shows and did whatever made sense at the time to achieve a specific outcome. At one point, I got a job at a small furniture upholstery shop to learn even more ways of the craft to carry over into the custom car world.
Over the years, I've learned a lot by challenging myself to try new techniques and materials, but also from the people I call my mentors that have gone out of their way to help me from time to time — specifically Shannon Walters, John Miller and Chris McClintock, to name a few. I've worked with some very talented people over the years and had a lot of help and support from my friends and family. I've learned something from each of them, which has helped me get to where I am now in my craft.
Jonas: I started out at an early age. My grandmother taught me some of the basics. When I was around 20, I got hired on at a shop installing sunroofs and leather kits, primarily. While I worked there, I learned how to do seat panel replacement along with some custom work. I was employed there for almost 10 years. After that I moved to a different shop that specialized in antique and classic interior work. I really learned a lot about the craft from some pretty seasoned veterans in the 7 short years I was there.
Chris: I got into working on car Interiors 5 1/2 years ago via a friend of mine. He owns a company in Georgia that caters to dealerships. For 3 years, I would go to different dealerships around Georgia and Alabama offering interior repair services. We did repair work on leather, vinyl and plastic. Repairs would include filling cuts, worn panels, cracks and then dying those panels back to factory color.
About 2 1/2 years ago, the trimmer for that company left and I was asked to fill in and learn the craft. I had to teach myself over the last couple years on trimming. Anytime I had any issues, I would turn to YouTube or a Facebook upholstery group for answers. Recently, I moved to Kentucky to join Auto Kustoms to learn and take my craft to the next level.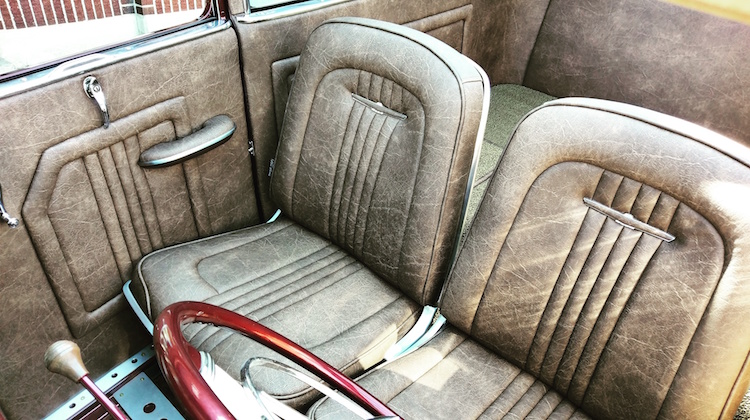 What's your favorite aspect of the craft?
Erik: My favorite aspect of the craft is when a customer isn't sure how to explain what they want and then when you are finished with the job and it's revealed they say: "That's exactly what I wanted!"
Jonas: My favorite aspect of our craft is the ability to take raw goods and turn them into something that people are proud to have in their vehicles.
Chris: Everything is different from project to project. Because everything is different, whether it be the car or just taking a different approach to the design, you learn new stuff with the job.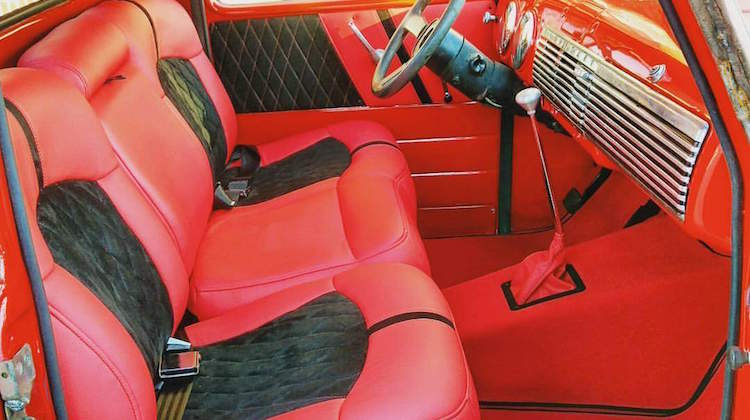 What's your upholstery pet peeve and why?
Erik: My biggest pet peeve is the general misconception or lack of education of what it takes to do what we do. Why? I, like my peers, take pride in what we are capable of and want to be recognized for it. Not necessarily personally recognized, but just want people to realize the actual hours we burn building their interiors.
Jonas: My upholstery pet peeve would have to be that I often see jobs that are not done correctly or someone cut corners to get onto the next one. I believe in treating every car as if it was my own, and not cutting corners on a job. It's usually simple stuff, like cleaning seat tracks, to new screws or bolts. Its little-overlooked details that can make a great job turn into an OK job.
Chris: People expect upholstery to be cheap. Anybody can drive a vehicle into a mechanics shop and won't freak out over $100+ an hour in labor. Take that same person and go into an upholstery shop and they will flip out over $50+ an hour.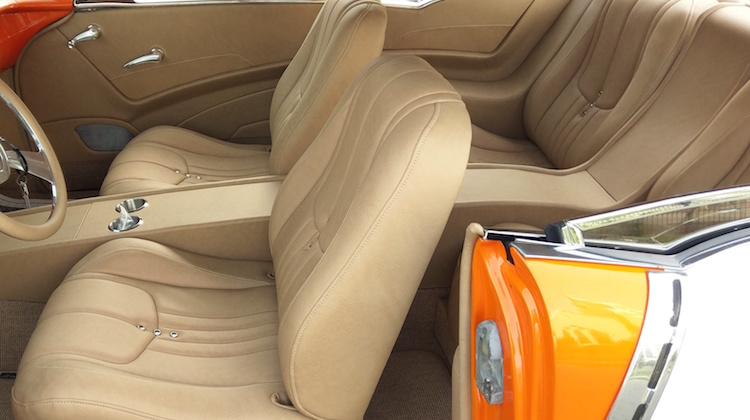 What's the best part about being a trimmer?
Erik: The best part about being a trimmer to me is to be able to make something bitchin' and three-dimensional from rolls of flat material; taking a vehicle with nothing inside of it and building it all from scratch and it be stylish, functional and comfortable. Also, the reactions you get from the customer and people in general.
Jonas: To me the best part of being a trimmer is getting the opportunity to work on some beautiful vehicles, and knowing that customers have faith in our abilities to produce what they are looking for in their vehicles.
Chris: Getting to work on different projects. I also love getting to work on really cool cars!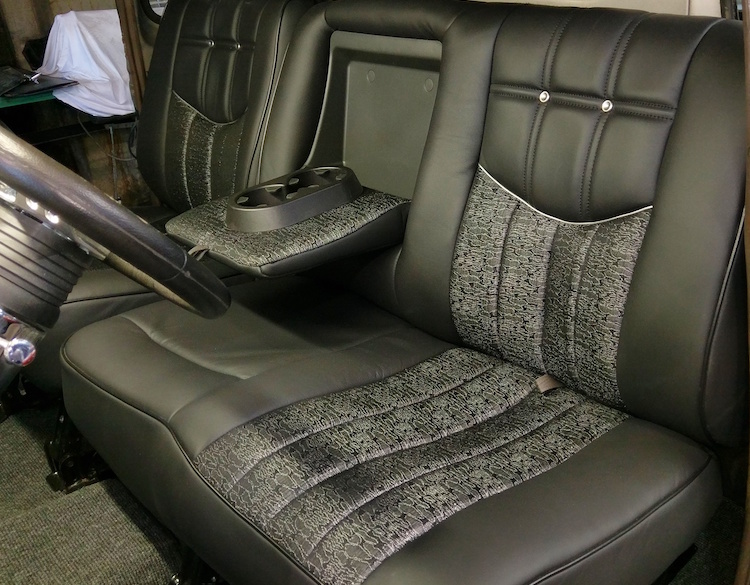 What concerns you most about the auto upholstery industry?
Erik: What concerns me the most about the auto upholstery industry is the lack of trimmers or skilled craftsman out there, and really the lack of interest to learn the craft. Just about everyone I know with a trim shop needs help and finding someone is like finding a unicorn — pretty much impossible. With the rise of pre-made parts, which I'm not opposed to, it really isn't getting anyone interested in upholstery as a craft. We seem to have more of a DIY market now. I remember before the internet days we had to mimic the dielectrically pressed pleats by actually sewing them on say a set of Chevelle door panels or something the like. There's no need for that anymore unless it's going to be somewhat custom.
Jonas: I have several concerns about our industry. First, the lack of people wanting to step up and pay their dues and learn the craft. Second, people who take classes for our craft and come out to the real world and think they know it all and should be making big money. We all know you can learn the basics in classes, but you can learn a lot more with hands-on experience in the field. My final concern is all the car shows on TV making it look like what we do is easy and cheap.
Chris: The industry is a dying due to fewer people getting into the craft. With today's aftermarket products and DIY, people want everything done on the cheap.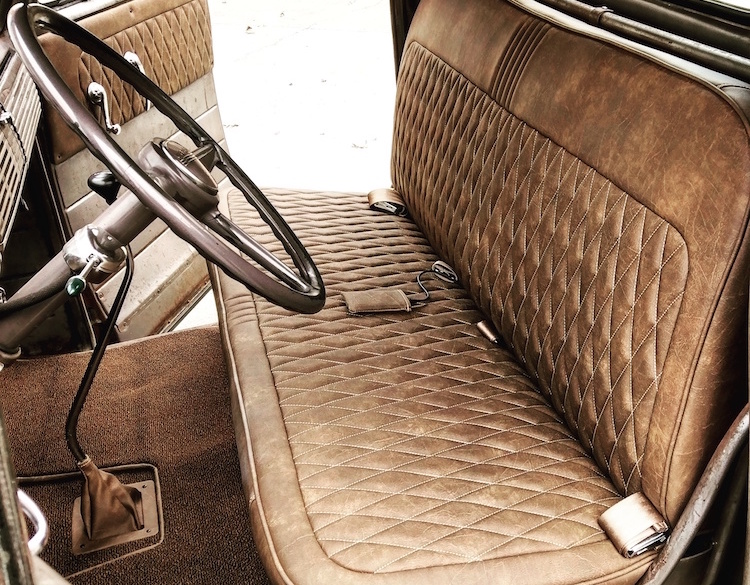 Find out how to be featured in our "Meet the Trimmer" series by emailing info@thehogring.com.