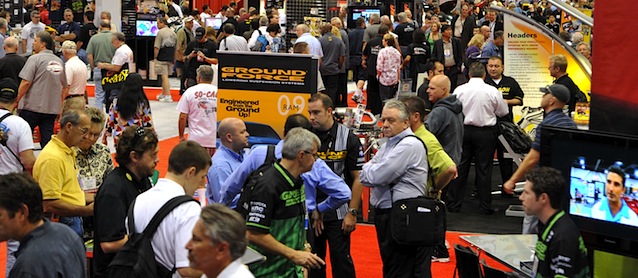 In previous articles, we discussed how car clubs and shows can expand your auto upholstery business. But there's another type of show that can also benefit your shop – trade shows.
Ace Eckleberry of ACE Custom Upholstery & Rod Shop in Fairfield, IL recently wrote an article for Hotrod & Restoration Magazine titled "Preparing for Trade Show Season", in which he discusses the benefits of attending trade shows and how to make the most of them.
Among his tips, Ace writes:
Take your time. Walk slowly through the sponsors' booths. Let them show you new products. Ask questions and don't accept generic answers. They are there to help make you better as a tradesman. This is a great opportunity to arm yourself with knowledge to help instill confidence in you as a shop owner when potential clients approach you for the first time in your shop.
Collect information from vendors on products that can make your business stronger and more capable. Get contact info and create personal handshake relations with the vendors you already use. This is a rare opportunity to put faces to names of people you do business with. Networking on a face-to-face level is one of our most powerful tools in business. […]
The most powerful tool in expanding your business is word of mouth recommendations. This is a prime location to field those referrals. Industry pros that know you and have experience with your service will introduce you to people needing your offerings.
Don't let that opportunity pass you by. [more]
Hopefully, some members of The Hog Ring community were able to attend last weekend's 2013 Hotrod & Restoration Trade Show in Indianapolis, IN. It's always a great event to network and connect with manufacturers, suppliers and other shops.
If not, definitely make plans to attend DLT Upholstery Supply's Open House on June 7 – 8 in Oak Lawn, IL, where you'll have the opportunity to meet the DLT team and interact with some of our industry's leading vendors. For more details, see the March issue of DLT News.
For more industry events, check out The Hog Ring's "Seminars & Trade Shows" section.