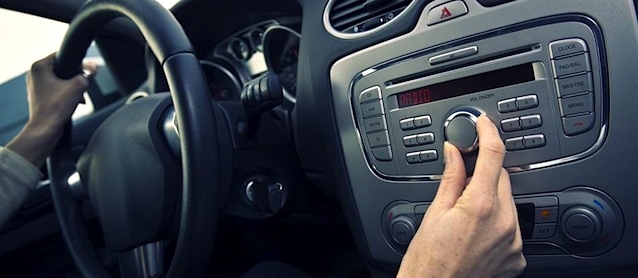 Car ashtrays and front bench seats fell into gradual extinction. Will traditional car radios be the next interior feature to go? If in-vehicle audio trends continue the way they are, it's very possible.
In a recent article, The Detroit News posits that while AM-FM head units are not dead yet, streaming music via the internet has become automaker's new priority.
"AM and FM as a delivering mechanism isn't going to be the most important in cars anymore," said Thilo Koslowski, a vice president at technology research firm Gartner Inc.
"By 2020, I feel very confident that many consumers will consume radio content through avenues other than terrestrial broadcast."
In other words, drivers may still be listening to radio stations in their cars, but they'll get them in different ways: Connected to the Internet through their smartphones or directly through their car's infotainment system.
Koslowski calls this "digital lifestyle convergence" — bringing to automobiles the music files, texts, phone calls, Web-based radio and other content that people are accustomed to getting on their smartphones, iPads and laptop computers.
It's already becoming a reality: Drivers of Fords and Lincolns can access several popular smartphone applications through the MyFord Touch dashboard interface. General Motors Co. says it will soon offer high-speed 4G mobile-Internet capabilities inside its cars. [more]
Of course, none of this should shock you. On-board entertainment systems have undergone continuous innovation since their inception. How far back can you remember? 8-tracks? Radios? CD players? Today, many new cars even feature USB ports for easy smartphone or tablet hookup.
In fact, Detroit Electric, the US' newly revived electric automaker, plans to roll out its first model in August – without a radio. And, get this, it isn't to save weight.
Other automakers are even taking it one step further. Renault recently debuted a new concept vehicle, the Twin'Z, that doesn't feature any buttons or knobs on its dashboard at all. It doesn't even have any gauges! Instead, everything – from its radio to odometer – will be viewable through a mounted tablet, like the iPad.
After years of stagnation, automakers are finally advancing their interior designs, and they're relying heavily on technology. Of course, upholsterers – like all automotive professionals – will have to keep pace.
Don't be surprised if in 10 years you're no longer fabricating consoles with space for head units or covering anymore speaker boxes. Instead, you might just find yourself trying to figure out how to upholster a headrest with sound system mounted inside.
Oh, wait, that already exists…