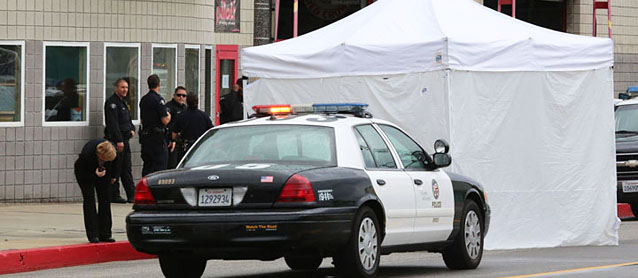 Sad news to report this morning: An employee of 1st Class Upholstery in San Pedro, CA was fatally shot yesterday when a masked gunman struck him down in front of his shop.
According to local newspaper The Daily Breeze:
The victim was getting out of his car in front of 1st Class Upholstery, 476 W. Fifth St., when a man wearing a surgical mask gunned him down at 8:25 a.m. Tuesday, said Los Angeles police Lt. John Pasquariello. No further description of the suspect was given, but the victim died immediately, he said.
The man, whose identity was not disclosed, had just pulled up to work at the upholstery and collision repair shop in his dark green pickup truck when he was shot, Pasquariello said. Several men, who did not give their names but said they were co-workers, described the victim as a nice man who had worked hard at the shop for decades.
"All he ever did was work on his cars and go home," said one man who had worked with the victim. "He didn't bother nobody. He's been around since the '80s. All he do is work on the cars. He's harmless as a flea." [more]
Our thoughts and prayers go out to the victim's family, as well as the entire team at 1st Class Upholstery.
Like all small businesses, auto upholstery shops are sometimes targeted by hoodlums. Please do not take your safety for granted. Whether you feel it necessary to install an alarm system, cut late hours, get a guard dog or legally and safely carry a weapon, please take proper precautions to keep yourself and coworkers safe.
Auto trimmers work too hard to have their lives taken from them in such senseless acts of violence. No one deserves that.
Please share: If you have any tips or advice on how to stay safe, please post them in the comments section below.