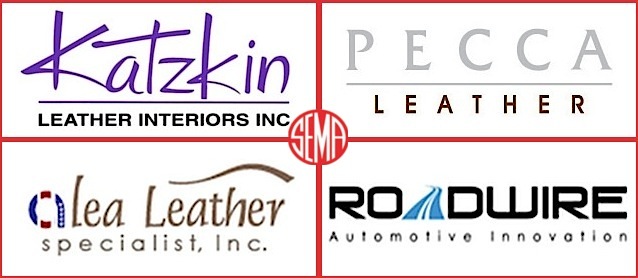 Last week at SEMA, I visited the display booths of some of our industry's leading aftermarket leather interior kit manufacturers. I spoke with representatives from Katzkin, Roadwire, Alea and Pecca to find out what's new for 2014.
Katzkin was in full force in the North Hall of the Las Vegas Convention Center with a 2,000-square-foot display, which included a 25-foot rotating tower, 84-inch monitor streaming Katzkin videos and Ipads for visitors to surf Katzkin's website.  Also on display were 21 bucket seats, each wrapped in the company's new design packages – including a line designed by legendary hotrod builder Chip Foose.
Three show vehicles were on display, including a tricked-out Jeep Wrangler with seats covered in Katzkin's "Premium Rugged" package, a classy Fiat 500 showing off the "Urban Expressive" line and a Hyundai Sante Fe equipped with Katzkin's latest offering, Degreez, an aftermarket heating and cooling system intended for universal installations.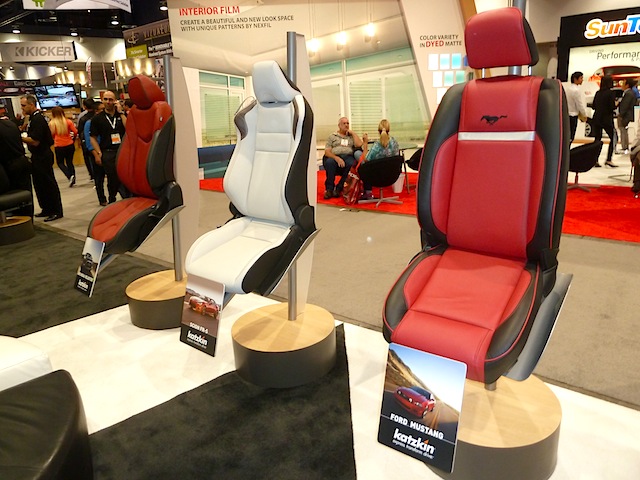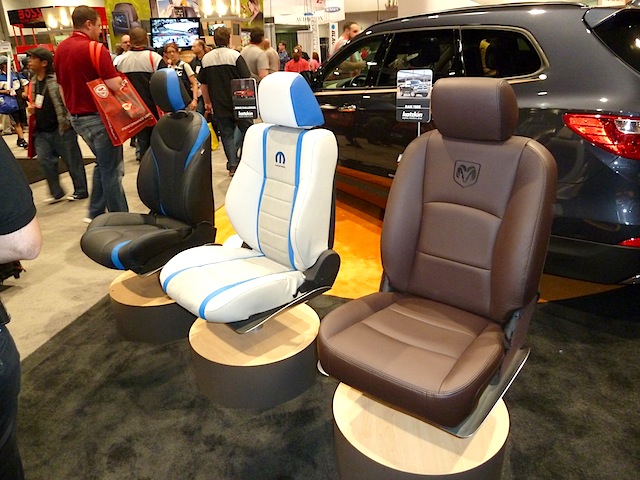 Also in the North Hall was Roadwire, which had some attractive new products for the restyling market. Roadwire recently introduced a new "SE" line of cloth to leather conversion kits. The "SE" line features a sporty look with perforated inserts, embroidery, contrast accents and stitching. Best of all, "SE" packages are warehoused for immediate shipment and are competitively priced – costing less than the average standard upholstery kit.
While there, I had a chance to check out My Top, the world's first power convertible top for Jeep Wranglers. Just like Katzkin, Roadwire was also excited to tell me all about their new seat heating and cooling system.
Roadwire was also proud to introduce to the aftermarket a Signature Automotive Products sunroof for Toyota Camrys. The sunroof is manufactured by the OE sunroof supplier for Toyota and is the very same model that Toyota has installed in-factory since 2012. It even comes with a new headliner board, eliminating the need to install a floating liner.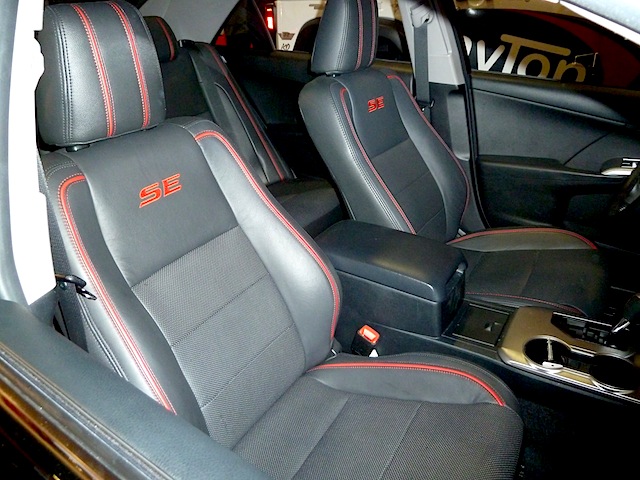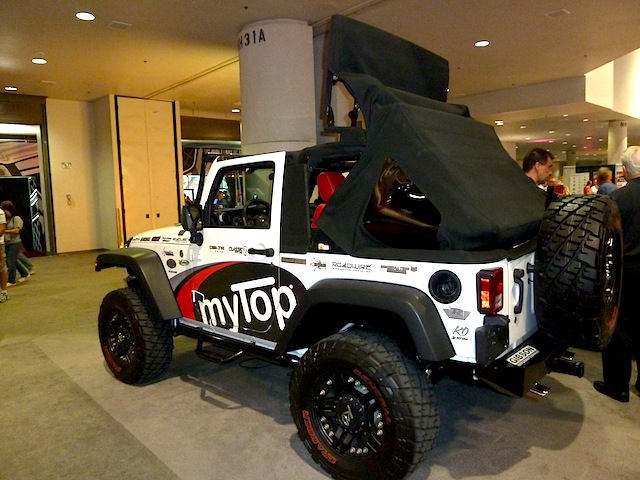 For the sixth year in a row, Alea Leather participated in the SEMA show. I had a chance to meet with company president and CEO Bernard Huey in the North Hall, where he told me all about Alea's latest products.
I've always been a huge fan of Alea's innovative pleat designs, including their Prestige, Eleganza, F1, Da Vince, Platini, Victorino and Mocho Series patterns. Seeing them up close, I was able to appreciate them even more. Best of all, they're not just custom packages for specific vehicles, leather interiors for any car can be outfitted with your choice of pleat design.
Alea also offers sewn samples of each pattern for order to be displayed in your trim shop's showroom.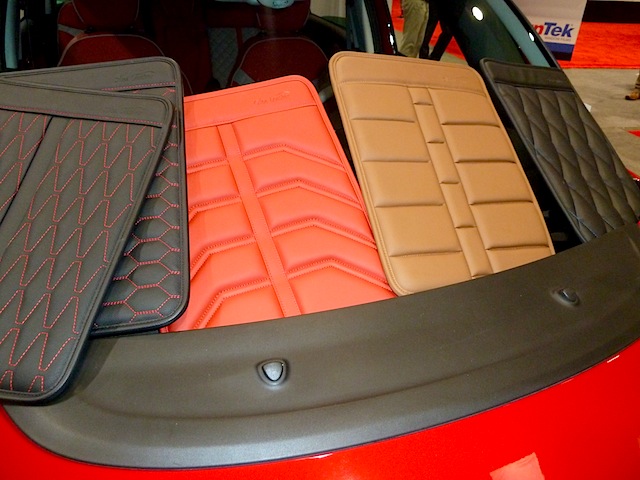 Exciting news from Pecca Leather, they've just been acquired by CoverKing. I spoke with the company's Business Development Manager Jeff Cater in the Center Hall, where he told me to expect big changes from the company in the coming months.
The acquisition was so recent, that he couldn't go into much detail about what's to come. However, I was able to see a preview of some of the potential innovations on display at the CoverKing booth.
Pecca is experimenting with a technique of screen printing patterns on UltraSuede. Two current-model Camaro seats were on exhibit, showing off the innovative technique – each with a modern twist on a retro look. The first was a blue seat with suede inserts with Camaro script printed on, made to mimic 80's era Camaro interiors. The second was a black seat with houndstooth suede inserts, made to resemble first-generation Camaros.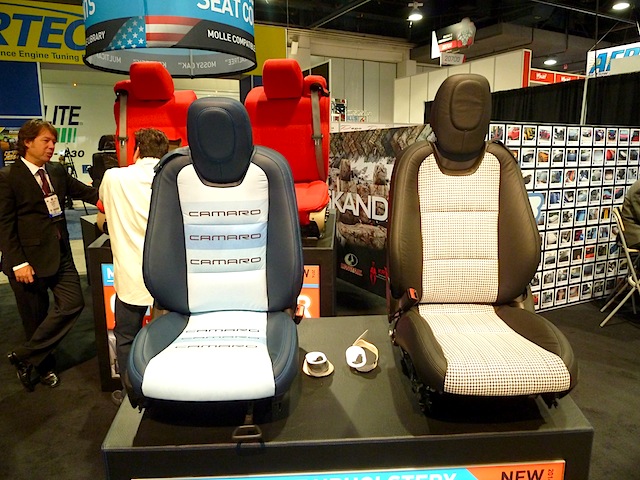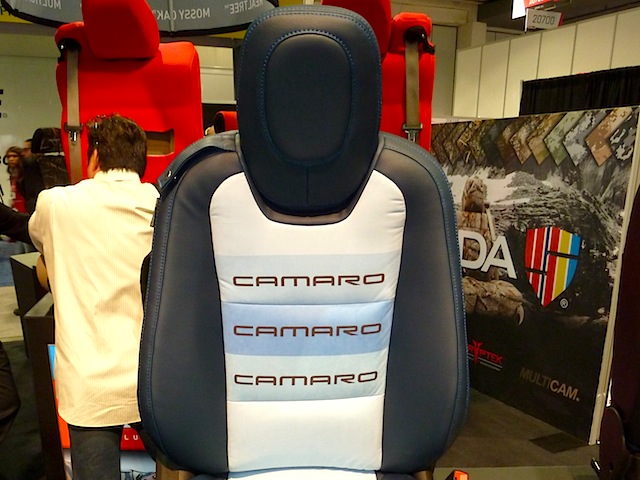 Needless to say, I walked away from SEMA excited about what's in store for leather seat cover kits in our industry.