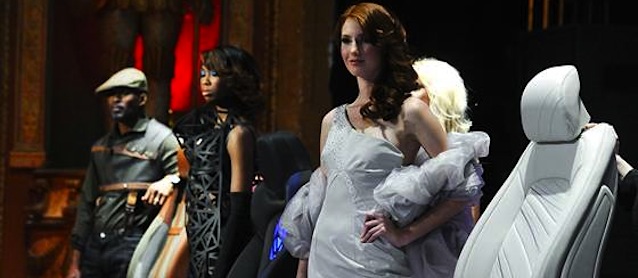 If there was any doubt over the growing connection between the automotive and fashion industries, Lear Corporation – which, like Faurecia and Johnson Controls, manufactures car seats – recently staged a fashion show in which models strutted down the runway in outfits made of vehicle upholstery before striking a pose beside car seats.
NBC News explains:
Lear used a fashion show at Detroit's flashy Fillmore Theater to unveil a new line of fabric and leather concept car seats, and the talents of the aforementioned designers. […]
The show also gave Lear a chance to showcase the talent of the young designers it has recruited in recent years to work on vehicles. To showcase its new products, the design team used fashion models wearing items of clothing including evening gowns, leather jackets and sportswear made entirely from the materials developed by Lear and its subsidiaries.
"All of these are made from automotive leather," said Rachael Beresh, a designer in Lear's Southfield, Mich., studio who joined the company two years ago. She showed off a seat design dubbed Rebel Shred and high-fashion leather jacket made of the same material that was carefully pieced together with nearly invisible thread.
The idea was to show off the craftsmanship that Lear can bring to designing a seat for a future vehicle, Beresh said. [more]
Corny? Maybe. But at least they didn't play a remixed version of Right Said Fred's "
Too Sexy
" (for my car?).