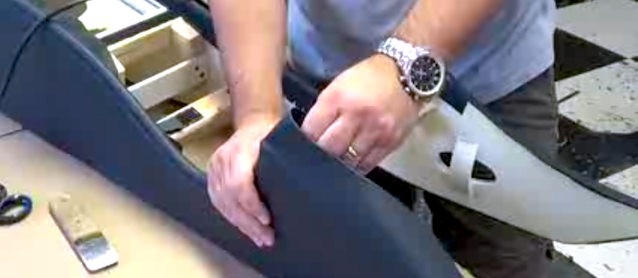 Take a behind-the-scenes look at how hot rod trimmer Tim Amanns of Pro Auto Custom Interiors builds a one-off center console for a 1968 Pontiac Firebird.
Tim is part of a three-man crew, which includes cousin Steve Holcomb and Richard (Dick) Ardner. Together, they've created stunning, high-end custom interiors for elite street rods, hot rods, and muscle cars featured in some of the most popular car magazines. Vehicles they've worked on have even won, or been in contention for, the most prestigious awards in the auto industry – including The Detroit Autorama's coveted Riddler Award.
In this 20-minute video, cameraman "Scottie" of YouTube channel ScottieDTV follows Tim throughout a 25-hour build of a center console. Scottie checks in at various stages of the process, starting from the very beginning, when Tim uses cardboard to create his templates, to the end, when he mounts the finished console in the vehicle.
Too many important steps are edited out of this video for it to be considered a tutorial. However, you can still pick up many of the nuances involved in the creative and build processes by paying close attention.
Many thanks to Pro Auto Custom Interiors for allowing us this behind-the-scenes peek at how they work. We look forward to more videos in the future.