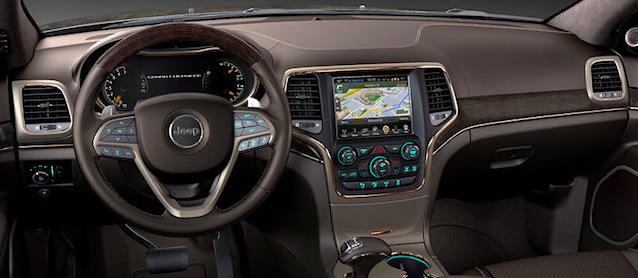 The look and feel of a cabin shouldn't be an afterthought, nor a wholly separate experience. The best car interiors – whether designed and trimmed by automakers or auto upholstery shops – utilize color and texture to evoke feelings that match a vehicle's intended sense of style and purpose.
That's the goal Klaus Busse, Jeep's head of interior design, hopes to achieve with the unique palette of colors and fabrics his team chose for the automaker's newest lineup of go-anywhere vehicles.
In an article by The Detroit News on how colors and fabrics are heightening intrigue at this week's North American International Auto Show in Detroit, MI, Busse explains how Jeep does it:
Jeep's head of interior design, Klaus Busse, said they take their color cues from nature, rather than fashion.
"We are using colors and materials to define the brand character and give it some soul, to get the car away from being just a commodity," Busse said.
The Grand Canyon is one of Jeep's inspirations, and the color palette of the canyon factors into the choice of metal trim color used as well. Chrome, that ubiquitous automotive trim, cannot be found in a canyon, of course. "At the Grand Canyon you see all these beautiful earth tones, and so now we use copper and not chrome," Busse said.
Jeep also draws inspiration from Mt. Vesuvius in Italy, with its strong brown tones, but also the dark blues of the sky, with cloud-like white as a contrast. And Jeep has an Icelandic color package.
"It's cold in Iceland, there are no blooming trees, it's gray and cold, and yet it's beautiful," Busse said.
Looking at some of the new options, cloth seats aren't necessarily a less-desirable option than leather seats. Jeep's Icelandic package includes the use of traditional Nordic fabric for the seats, and Busse said the felt-like cloth is unusual enough that it leads some consumers to assume that it's a more upscale model than the leather.
Most importantly: In the wake of Polar Vortex, you won't need your seat warmers with the Nordic cloth seats. [more]
Of course, the average Jeep owner may never even notice how the automaker's choice of colors and fabrics enhance the overall driving experience. Then again, maybe that's the genius of it.
What do you think? Is Busse over intellectualizing interior color and material schemes, or does he have a point?