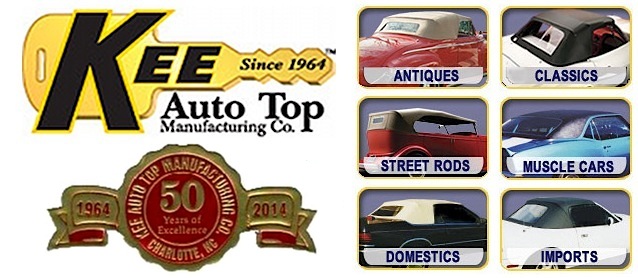 Kee Auto Top is celebrating its 50th anniversary with a full year of promotions, specials and events — just to say thank you! "We couldn't have done it without you, and we want to show our appreciation," the family owned and operated business says in a flier.
In business since 1964, Kee Auto Top produces all of its convertible and vinyl tops in the United States using the highest quality materials available. The company explains:
Kee Auto Top spends the extra time and resources to source their convertible and vinyl top material from the same mills as the OEs. Materials sourced elsewhere, while less expensive, often result in an inferior product due to lower standards of manufacturing. Kee Auto Top will accept nothing short of the highest quality materials, ensuring a superior product. [more]
To that end, Kee Auto Top just added a new product to its line: 2004 – 2009 Toyota Solara convertible top with defroster glass. The top is available in two colors, black and beige, as well as two styles, with and without rain gutters. Of course, headliner and side-tension cables are also available to complement the installation. Click here for more details.
For additional information on Kee Auto Top's products, visit KeeAutoTop.com or give them a call at (704) 332-8213. You can also register for the company's enewsletter by emailing info@keeautotop.com. Doing so gives you access to secret specials — so sign up today!