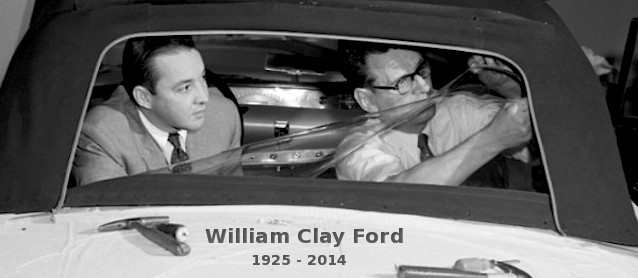 William Clay Ford, last surviving grandchild of Ford Motor Company founder Henry Ford, passed away early this month. To honor his legacy as an automotive design maven, Ford is establishing a scholarship fund aimed at supporting the next generation of vehicle designers — including college students majoring in industrial design who intend to use their degrees to create car interiors.
A Ford press release explains:
Ford Motor Company Fund will award $1 million in automotive design scholarships during the next 20 years to commemorate the late William Clay Ford's contributions to the design legacy of Ford Motor Company. […]
The grant will be paid at the rate of $50,000 per year during the next 20 years, awarding five $10,000 scholarships annually to outstanding college sophomores or juniors pursuing a degree in automotive design. Details of the program will be announced in the coming months. [more]
William Clay Ford served as a board member of Ford Motor Company for 57 years. During his tenure, he oversaw the design of several iconic cars, including the Lincoln Continental Mark II. He also served as the automaker's first design committee chairman, a position he held for 32 years.
"Design was Mr. Ford's passion, and his creative vision transformed vehicle design at Ford," said Jim Vella, president, Ford Motor Company Fund and Community Services. "We are honoring William Clay Ford's legacy by encouraging and supporting the next generation of innovative automotive designers through this scholarship."
For details: "Ford Fund announces $1 million William Clay Ford Automotive Design Scholarship."
http://youtu.be/TnCOpZy1434