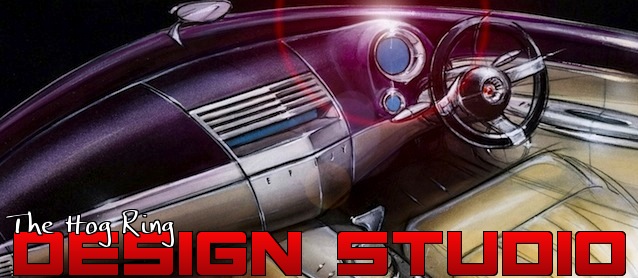 The Hog Ring Design Studio is a growing collection of vehicle interior renderings that lack color and detail, but provide a solid foundation for you to experiment on top of with various color schemes and stitch patterns. Until now our renderings have been of generic seats and cabins. However, this month we unveil the first of many vehicle makes and models: a 1955-57 Chevrolet.
Better known as Tri-Fives, these Chevys are arguably the most iconic of all American cars. Since their debut, hot rodders have been customizing them to their tastes from inside and out. Their large, plain interiors serve as a perfect blank slate for trimmers to let their imaginations run wild and design one-off interiors.
To show customers how your vision for their seats will tie in with the rest of their cabins, we've provided you with two renderings of a full Tri-Five interior. With the exception of one featuring front bucket seats and the other a bench seat, the illustrations are exactly the same. Best of all, they're left blank in all the right places — so you can draw your own designs for seat inserts, door panels, kick panels, dashboard and package tray.
The Hog Ring's goal is to simplify the customer consultation process by providing every auto upholstery shop with the opportunity to produce professional renderings. Visit our Design Studio to download, print and use them — and look out for next month's additions!