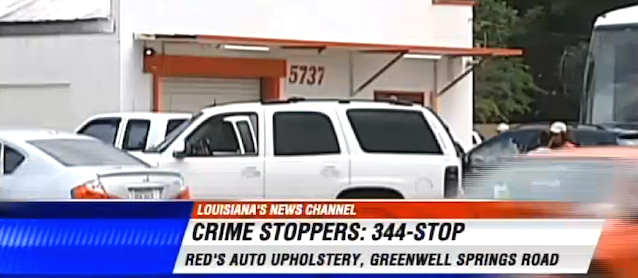 Our condolences to the team at Red's Auto Upholstery in Baton Rouge, LA — where employee Nicholos Brumfield, 23, was gunned down Saturday night while working in the shop. Brumfield, who built and upholstered custom speaker boxes and installed stereo systems, was an aspiring entrepreneur, who had hoped to one day open his own shop. He leaves behind a 1 year old daughter, Madison.
Local newspaper The Advocate writes:
Baton Rouge police found Brumfield, 18609 Greenwell Springs Road, No. 7, inside the business. He had been shot multiple times, said Cpl. Don Coppola, a police spokesman.
Police do not have a motive or suspect in the shooting, Coppola said. …
Coppola said he could not disclose how many times Brumfield was shot, but friends and co-workers standing outside the business Sunday said Brumfield had been shot about seven times, including several times in the head.
The owner of Red's Auto Upholstery, who would not provide his name, said he along with a few other people were at the shop when Brumfield was shot, but he was in the back of the building and Brumfield was in the front when the shooting occurred. The owner said he did not see what led up to the shooting.
He said Brumfield was a good employee and had worked at the shop for about 10 months. [more]
Brumfield's killer has not yet been caught, nor do police know the circumstances surrounding his murder. Anyone with information is asked to contact the BRPD's Violent Crimes Unit at (225) 389-4869 or Crime Stoppers at (225) 344-7867.
Like all small businesses, auto upholstery shops are sometimes targeted by criminals. Do not take your safety or the safety of your coworkers for granted. We all work too hard to have our lives taken from us in such senseless acts of violence. Please take proper precautions to ensure shop safety.
Our sincerest condolences to Red's Auto Upholstery and Brumfield's family and friends. May he rest in peace.