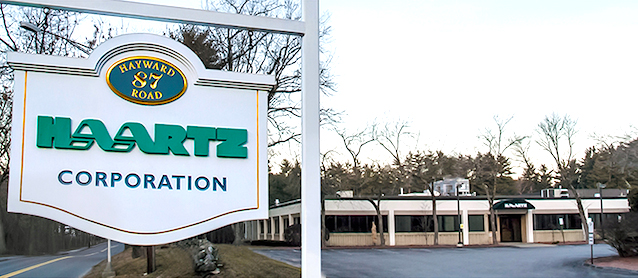 The trend of customers buying subpar convertible tops online and asking auto upholstery shops to install them is a problem we've discussed in great length on The Hog Ring. It decreases our sales, disrupts our workflow and – when the product inevitably fails – damages our reputations.
Fortunately, we're not alone in the fight against inferior-quality products. Haartz Corporation, the auto industry's leading manufacturer of convertible topping material, has launched a campaign to educate the public on the benefits of having professional auto trimmers install convertible tops – manufactured using quality Haartz material – on their cars.
What's more, Haartz recently launched Fortè, a new line of soft-top fabric that's set to revolutionize the market. Featuring a 100 percent polyester backing, Fortè provides superior strength and stability, as well as enhanced acoustics within the cabin. And while Fortè complies with OEM standards, it has been specifically engineered for aftermarket applications — so it's available in a wide range of colors and grains.
Intrigued by these recent developments, we reached out to Matt Williams, director of business development for Haartz, to ask him about the potential threat of inferior and impostor-brand materials, as well as what we – as an industry of manufacturers, suppliers and auto upholstery shops – can do about it.
His answers were informative and insightful, and definitely something every auto trimmer should read:
1. Can you briefly explain to our readers what the difference is between Haartz convertible topping and those produced by competitors? What sets Haartz apart and makes others inferior?
Haartz has been the OE and aftermarket supplier of choice for over 100 years for convertible topping products. As a result, we have driven much of the innovation in products, manufacturing technology and quality expectations for the marketplace. Being a core element of a third generation family owned company, the convertible topping business demands attention at all levels and is at the core of who Haartz is to the market. We don't believe our competitors support and value their convertible topping products to as great of a degree.
2. In recent years, we've seen an explosion in online sales of aftermarket convertible tops manufactured by unfamiliar companies using subpar materials and poor workmanship. Some are even falsely advertising that they use OEM fabric. Is this a cause of concern for Haartz? And what, if anything, is Haartz doing to combat this growing phenomenon?
This is certainly a great concern to Haartz. Beyond misrepresenting the Haartz name, we are concerned with customer dissatisfaction with poor quality convertible tops as a whole and the damage that causes Haartz, our convertible top manufacturing customers and the perception of the aftermarket as a whole. To combat this, Haartz has actively engaged in advertising, online promotions, tradeshows, and overall market awareness of the superior performance and value of our products. Furthermore, our new Fortè™ product is targeted specifically towards providing the best price/performance value to the market and ensures customers who buy a top with Haartz product have the best experience possible.
3. Does Haartz provide any resources – such as publishing a list of convertible top manufacturers it sells to – for auto upholstery professionals to correctly identify which manufacturers do or don't produce tops using Haartz fabric?
Our website includes a "Find Your Top" feature (click here) that guides consumers, trimmers and distributors towards manufacturers that use Haartz fabrics. Additionally, this feature of the site includes a database listing the original Haartz fabric for convertibles sold globally since the 1960s. Finally, we provide our aftermarket cut & sew customers and distributors with annual updates on OE material construction and color usage for all vehicles sold worldwide.
4. We've noticed that in recent months some of the most reputable convertible top manufacturers have started sending out mailers to auto upholstery shops informing them that they only produce tops using Haartz and not to trust manufacturers that don't. Is this part of an organized campaign to raise awareness about the growing problem of knockoff materials?
Absolutely.The Haartz "Keep it Original…Keep it Haartz" campaign (click here) and our Fortè™ advertisements are targeting the same message that Haartz is pushing to all of our cut & sew and distribution customers. Convertible topping and tops are very technical products which demand this know how. We ultimately believe that the satisfaction of the consumer will be based upon people buying products from manufacturers that know what they're doing. As evidenced by the rich history of Haartz and our cut & sew customers who build tops, there is a limited number of folks out there with the know how to make a quality product.
5. What are the risks – legal or otherwise – of knowingly selling or installing convertible tops that falsely claim to be manufactured using Haartz or OEM material?
Haartz will certainly protect our trademarks and target manufacturers that misrepresent the products they sell as using Haartz toppings when they do not.
For the consumer, the primary risk we've seen as a result of using certain alternative materials is poor fit and finish of the roof (poor appearance, noisy ride, leaking seals, etc.). Long term, some materials have also shown evidence of premature wear, fading, embrittlement, and otherwise failure that would drive the consumer to prematurely replace the top at great cost, frustration and dissatisfaction.
6. Most auto upholstery shops understand that selling or installing subpar convertible tops can damage their reputations and ultimately hurt their bottom line. Still, for struggling shops in a down economy it's hard to turn away business. What can we do as an industry – from manufacturers to suppliers and installers – to promote the benefits of quality convertible topping?
Product and brand awareness at the trim shop and consumer level is key. We sense a very strong "made in the USA" sentiment at the trim shop level and are trying to foster this movement by asking trim shop owners as well as consumers to insist on genuine Haartz convertible topping, perhaps even going so far as to encourage top buyers to have their supplier certify in writing that their top was produced from genuine Haartz convertible topping materials. Additionally trim shops should do whatever possible to discourage consumers from buying tops of unknown origin on internet outlets that don't have a longstanding reputation of delivering high quality tops using high quality topping materials.
To learn more about Haartz Corporation, visit Haartz.com.