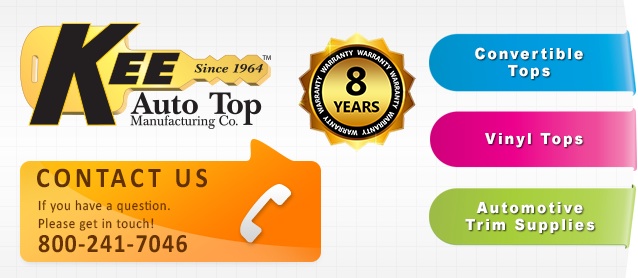 No tricks, just treats are what you'll find in Kee Auto Top's October 2014 newsletter. Would you expect anything less from one of the world's leading manufacturers of quality convertible and vinyl tops?
Sales and discounts!
This month Kee is running a fantastic sale on beige/black Stayfast tops! That includes tops for the Camaro, Firebird, Solara, Eclipse, Sebring and more!
Just how much can you save? It's so good we're kind of keeping it secret. To find out, call 800-241-7046 — you'll be happy you did!
New products!
Kee is constantly adding new products to its impressive lineup and innovating old ones too. This month is no different!
The latest product on offer is a 2001-2005 Thunderbird convertible top — manufactured, of course, to Kee's highest standards.
What's more, Kee now offers hard glass windows for all 1994-2004 Mustang convertible tops — with a new and improved tack line!
Promote your shop!
Want a great way to promote your shop? Kee is collecting testimonials from auto trimmers who've installed their convertible or vinyl tops. Simply send an email to info@keeautotop.com telling them what you think of their products and include a photo of a Kee top you've installed.
Do it and Kee will take an additional 5% off your next top purchase. Plus, the photo and testimonial could end up in a company advertisement — how cool is that?
For more details, check out Kee's October newsletter below!
If you haven't already, make sure to follow Kee Auto Top on Facebook and Twitter — where you can learn more about the company, it's fantastic products and stay on top of all their latest sales and promotions.
For additional information on Kee Auto Top's products, visit KeeAutoTop.com or give them a call at (800) 241-7046.