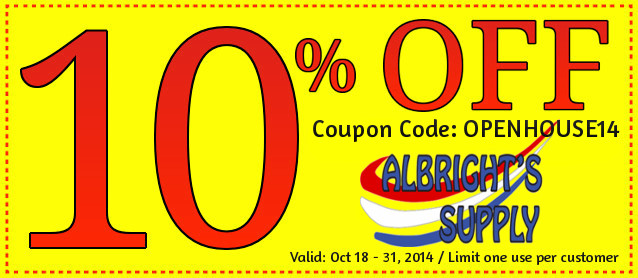 Listen up! If you can't make it to the Albright's Supply "Open House" this Saturday, Oct. 18 in Corinth, Mississippi, but still want to take advantage of great savings — use the above coupon code when ordering online or over the phone before Oct. 31 and take 10% off your entire order.
Of course, to save even more you'll need to attend the event, where trimmers from all over the country, as well as reps from leading manufacturers – including Enduratex and Morbern USA – will be on hand to network. The Hog Ring will be there too!
There will be food, door prizes, facility tours and STEEP discounts on offer. Believe us, it's an event you don't want to miss!
Albright's Supply explains some of the event's scheduled highlights:
Since January we have been operating a custom-engineered, state-of-the-art order-pulling system. There is not another system like this in the industry. It has greatly improved our customer experience by correctly cataloging items with their locations utilizing bar codes. Thus cutting down on mistakes, and speeding up the order-pulling process. We will be picking orders so that you can actually see your order go from computer entry all the way to packed and shipped.
We have added a number of new machines to process foam. These large blocks can be sliced, cut or contoured. We will show you how each operation is performed. We also will show you our foam-packing process.
More and more people are using the web store to place their orders 24/7. We will be showing a web demo to show you some tips and tricks to make the experience uncomplicated. We will also preview the new enhanced site going live in December.
There will be a huge clearance area full of items marked at bargain prices. All must go!
The "Open House" will be held at the headquarters of Albright's Supply in Corinth, Mississippi, and run from 8:00 am to 1:00 pm. Arrive early and Albright's supply will treat you to a free southern breakfast!
For more great discounts and opportunities to promote your own work, check out this month's Albright's Supply newsletter: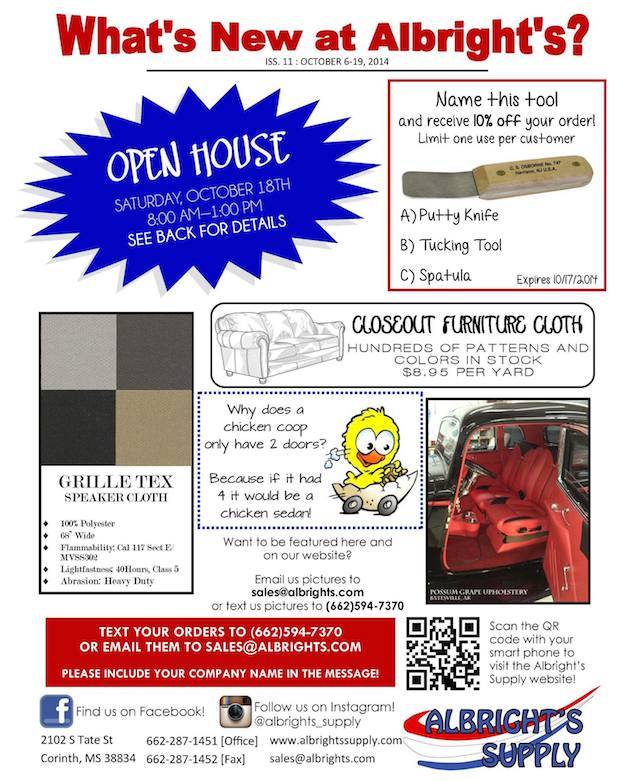 To set up a business account with Albright's Supply, call (662) 287-1451 or visit AlbrightsSupply.com.