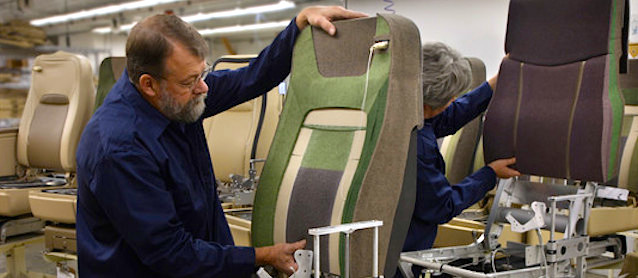 We're all familiar with cars – like the Hyundai HCD-14 Genesis – that take their interior design cues from airplanes. But increasingly, aircraft upholsterers are being asked to customize the cabins of planes to look and feel more like car interiors.
Industry news website Aviation Pros explains this growing phenomenon:
Business or personal jet owners "are people that have demanding expectations," says Jarod Triplett, vice president of business development for Davis Junction, IL-based services supplier and certification testing firm Skandia. "They want to have some uniformity [among] the designs of their homes, exotic cars, and private jet."
Debi Cunningham couldn't concur more. Over the past six to eight months the vice president of marketing and interior design for East Alton, IL-based MRO West Star Aviation says customers have been craving seat stylings "just like they have in their cars — Ferraris, Maseratis. We've [even] had a couple of Bentley requests."
"In regards to aesthetics, you're seeing a direct link to the automotive industry," agrees Veta Traxler, paint and interior lead designer at Moline-headquartered Elliott Aviation. That automobile affinity plays out in seat perforations, piping, colors, forms, and shapes.
This airborne affinity for automobile interiors isn't the only reason for the surge in seat and interiors work MROs are handling, but it helps.
"It's crazy how busy we are," says West Star's Emilie Harbour, the company's paint and interior design lead. "How much we have going on at a time truly reflects how many people are wanting to have their cabin refurbished. Everyone wants something that is nice, trendy, and up-and-coming." Cunningham calculates West Star's interiors growth over the past half-dozen years at some 20 percent per annum.
Custom work dominates at both West Star and Elliott. "We have never really had a 'plug 'n play' [standardized] type of interior," says Cunningham. "Probably 85 percent of our interiors are custom." Elliott's work too is predominately custom. [read more]
Here's the kicker — a custom aircraft interior on something like a Falcon 2000 or Gulfstream can run "upwards of $500,000 to a million dollars," Cunningham says, when you factor in the on-board entertainment system.
Clearly, there's a lot of money to be made in aircraft interiors. But these shops also face many of the same challenges auto upholsterers do — like strict trim regulations, customers with unrealistic expectations and the difficulty of finding qualified help. Nevertheless, it's inspiring to see how well they're doing, and also a bit flattering to learn that they're being asked to mimic our style.
Who knows, maybe if things don't work out in cars, there are jobs waiting for us in planes. In fact, some of us already dabble in the industry…
Tell us: Does your auto upholstery shop also do aviation upholstery on the side? And if so, what are the differences and similarities?