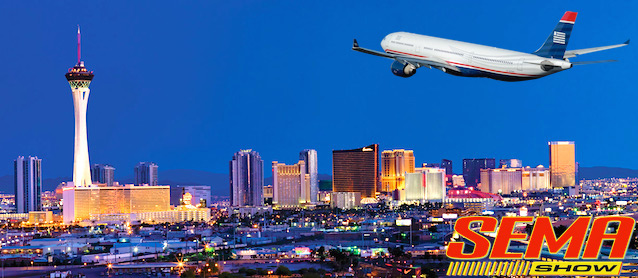 Look out Sin City, The Hog Ring is about to invade! We're headed to Las Vegas for the 2014 SEMA Show, where we'll be reporting on the auto upholstery industry's latest news and products.
In addition to our website, we'll be updating our Facebook, Twitter and Instagram accounts regularly — so check back often. And please let us know if there's a specific event, car or company you want us too see and report on.
Auto Upholster Meet Up!
Let's put some faces to names. Fred Mattson, owner and operator of Convertible Tops & Interiors by Fred in Coon Rapids, MN, is organizing a SEMA meet-up for members of The Hog Ring community.
If you're attending the show, swing by Toby Keith's "I Love This Bar and Grill" located on the second floor (center strip) of Harrah's Casino on Tuesday at 6:30 pm. We'll display a small THR sign so it's easy to find us.
It'll be great to meet, chat and network with some of the folks who've helped propel our community to new heights.
Lastly, if you're looking for some solid advice on how to make the most of SEMA, check out this article Fred contributed to The Hog Ring after last year's show: "Making the Most of SEMA 2013."
See you in Vegas!