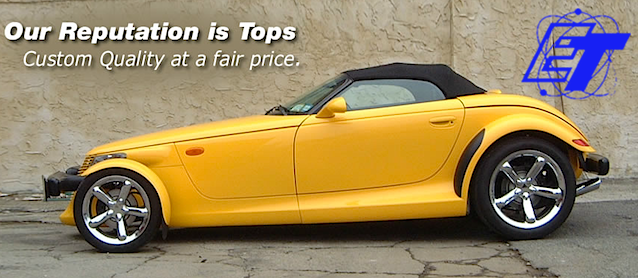 For Electron Top's latest news and promotions, check out the November issue of "Keep in Touch!" — their monthly newsletter, which you can download for free here on The Hog Ring.
This month's issue kicks off with the announcement that Electron Top is no longer offering the original 7 1/8" heavy cotton webbing used for pads on older Fords and scissor frame convertibles. Instead, they've converted their patterns to use Haartz Auto Fabric 1st quality vinyl, which is the highest quality option available.
Electron Top is also promoting Fortè — Haartz's latest offering, which we wrote about in September. For those who don't know, Fortè is the next generation in aftermarket soft-top fabric. Featuring a 100 percent polyester backing, it provides superior strength and stability, as well as enhanced acoustics within the cabin.
Also new on offer, Electron Top carries Jive A5 material, which is original on 2003-2009 Audi A4 convertibles GR63. If it's not listed on your sample card, call and they'll send you a new one.
While you're running checks, see if you have any OEM headliners for BMW convertibles from 1987 to present lying around. Electron Top is collecting them in order to resolve identification issues. For every one you provide that they need, they'll credit your account $25.
Last, but certainly not least, check out the lovely Thanksgiving poem that Office Manager Kimmy wrote and included in this month's issue of "Keep in Touch!" It serves as a beautiful reminder to us all of what really matters this holiday season.
To read this month's newsletter, download a free copy by clicking here.
To learn more about Electron Top's quality products or to set up a business account, visit ElectronTop.com or call (800) 221-4476.