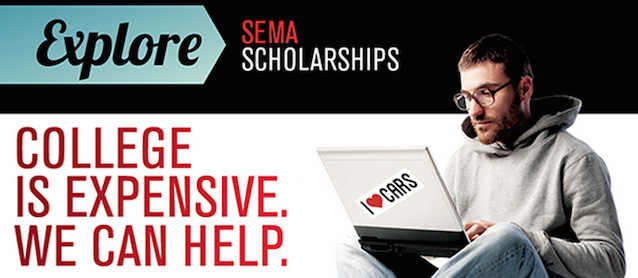 If you're interested in learning or mastering the craft of auto upholstery but can't afford to pay tuition, SEMA can help.
The SEMA Memorial Scholarship Fund is dedicated to fostering the next generation of industry leaders and innovators. Whether you attend a university, college or vocational/technical school, SEMA can offer you a partial scholarship to cover current tuition or to help pay back a student loan.
A recent press release explains:
The program offers financial assistance of up to $5,000 to help foster the next generation of automotive aftermarket industry leaders and innovators.
Scholarships are available in a variety of categories, including accounting, sales and marketing and engineering. Dozens of awards ranging from $2,000–$3,000 will be given out, with a $5,000 award going to the top student.
The program also includes a loan forgiveness component, which offers financial awards to employees of SEMA-member companies, who have completed and are currently paying off a loan for a program of study at an accredited university, college or vocational/technical program within the United States. [read more]
Of course, one of the scholarships offered through the SEMA Memorial Scholarship is reserved specifically for students pursuing or advancing a career in the auto trim and restyling industry.
The scholarship will be offered in memory of Nat Danas – founder of the National Association of Auto Trim Shops and Auto Trim and Restyling News. 
If you'd like to be considered for the SEMA Memorial Scholarship, submit your applications ASAP – as the deadline to apply is this April 1, 2015.
For more information on the program or to apply, visit the SEMA Memorial Scholarship Fund website or contact Juliet Marshall, SEMA education manager, at julietm@sema.org.