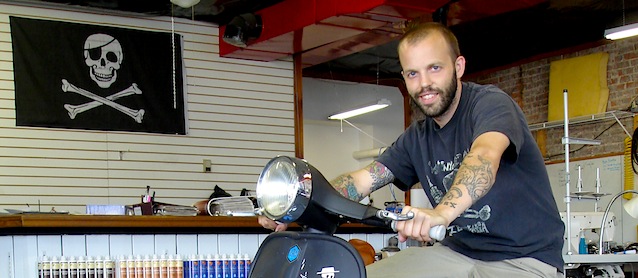 You may have heard the name, but you've definitely seen the work. We interview Jay Teske of Pirate Upholstery for the third installment in our "10 Questions" series – where we pose 10 questions to a master, innovator or business leader in the field of auto upholstery who we believe our community of auto trimmers can learn from or be inspired by.
Based in Kingston, New York, this tattoo artist turned cycle-seat trimmer has received international recognition for his killer designs and expert craftsmanship.
Employing a vast range of mediums and styles, Jay continues to out do himself with every seat he touches. You can even see some of his best work on Discovery Channel's "American Chopper" – where he's designed jaw-dropping bike seats for Orange County Choppers and Paul Jr. Designs.
We are honored to be interviewing Jay – not only because he's a master of his craft, but also because he's managed to achieve all this success while remaining a small, two-person operation.
Pirate Upholstery is, without a doubt, an inspiration to mom & pop upholstery shops everywhere.
1. How did you start your career in upholstery and where did you receive your training?
I fell into upholstery when I decided to make seat covers for my scooter and sidecar. I made the covers by hand during my downtime as a tattoo artist – the sidecar covers had the design that is now my logo.
So when I started looking to get out of tattooing, I emailed a bunch of people that I was looking for work and added that I can also make motorcycle seat covers. Well… one of the people worked at Vespa Soho and thought there would be a market for custom seats.
So I bought a second-hand commercial sewing machine and learned how to use it by trial and error. I started doing seats for them on the side, as well as for a custom motorcycle shop nearby. I learned techniques through watching some videos, but mostly through trial and error.
Pirate Upholstery became my full-time job two years later when I moved away from the city and opened up a storefront in upstate NY.
2. How large is your staff and what qualities do you look for in team members?
We're a mom & pop shop… it's just my wife and I. Our dog and baby come to work with us too! We are, however, looking for an additional person to help with upholstery on a per-diem basis.
3. What Challenges do you face being the owner of a business and also a trimmer at the same time? Is it difficult balancing the business end of the company while still finding time to upholster yourself?
It was overwhelming when I was doing it on my own, but my wife left her job over a year ago to help with the business end. She handles all of the calls, emails, bills, social marketing, etc. while I upholster.
4. How did your business connect with Orange County Choppers and Paul Jr. Designs? How has upholstering the seats for the American Chopper bikes changed your business?
When Vinnie and Cody left OCC to start V-Force Customs, we started making the seats for them. Vinnie then went on to work with Paul Jr. at Paul Jr. Designs and recommended us. The ball kept rolling from there and we started doing some of OCC's seats.
Working with these industry icons has given us more recognition, as well as the opportunity to make some creative seats. We made a motorcycle seat that looked like a racing saddle for OCC last year.
5. On average, how many seats does your shop complete in a month, and how long does a seat take for you to complete? Does your shop have a waiting list? And if so, how far in advance must customers book? From how far do they come?
We average four to five seats per week; and most seats take one day to complete. Hand-tooled seats take up to a month, as I work on them in between other seats. But I only do a handful of tooled seats per year. We currently have a two and a half month waiting list, but it's considerably shorter in the winter.
90% of our customers are from the United States, while the others come mainly from Europe. We've done a few seats for Australians, but shipping's a bitch to Australia!
6. What special tools in your shop are invaluable to your operation?
A sewing machine helps.
7. What challenges, if any, do you face effectively communicating design ideas with customers through a mail-order system? What efforts have you put in place to overcome these challenges?
We use our copier & scanner a lot! Customers will usually attach an image of what they are looking to get and we will print it out and re-draw it if necessary. We'll then scan and email them a picture for approval.
8. Where do you find inspiration for your designs? And do you find it difficult to generate new ideas and keep things fresh?
If given creative reign, I come up with the design from looking at the bike and determining what would flow best with the bike's lines. I like to try out new techniques as I'm constantly learning by trial and error.
9. Of all the custom seats that Pirate Upholstery has designed and fabricated, which ones are your favorite and why?
I like the Alligator seat [pictured below] because it's different and you're not going to see that anywhere else.
10. Oftentimes trimmers are restricted to working within the parameters of their customers' requests. If you were designing a seat for your bike, what would it look like? What's your favorite style of upholstery?
I enjoy working with heavy leathers – tooling and bridle leather. I hand-tooled the new seats for my scooter and sidecar [pictured below]. On my Triumph, I kept it simple with a tuck-and-roll leather top, plain sides and "Triumph" appliqué on the back.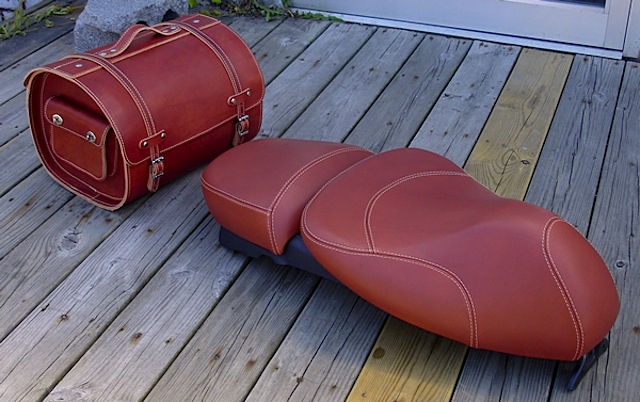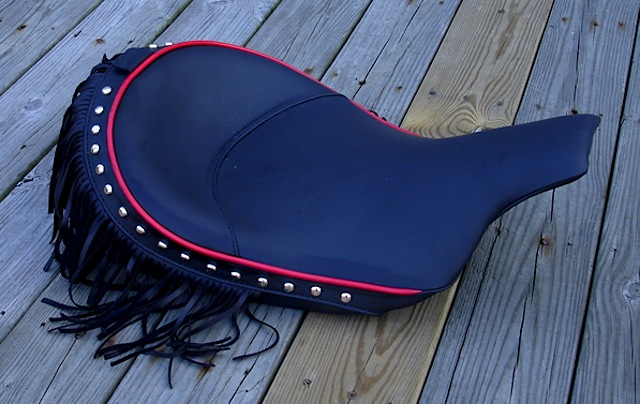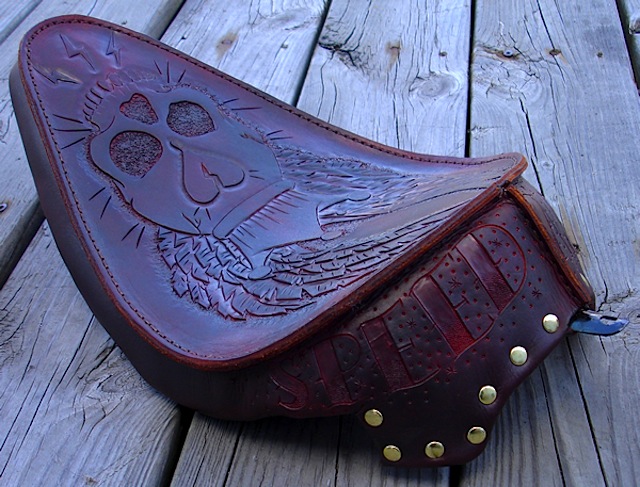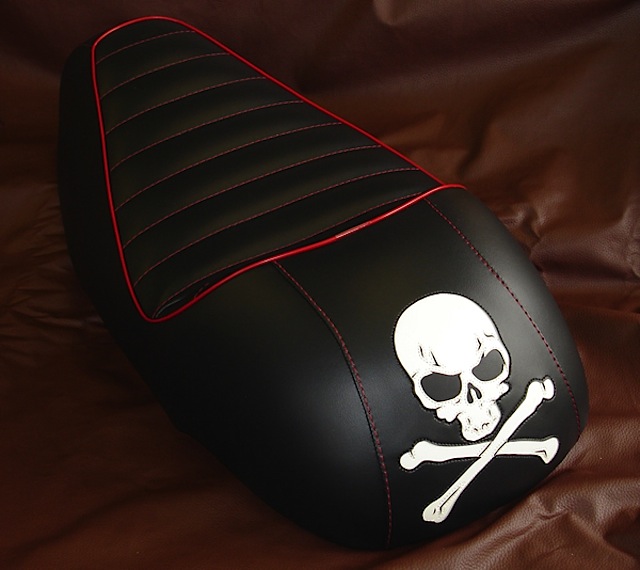 See more of Pirate Upholstery's work: www.pirateupholstery.com