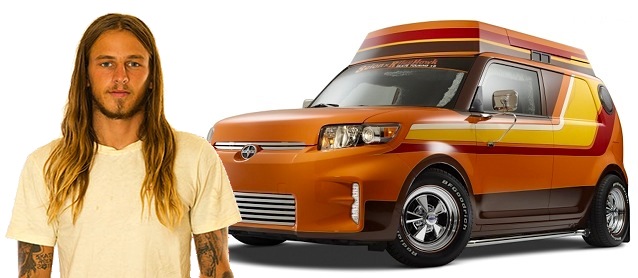 Last month at the 2014 SEMA Show, professional skateboarder Riley Hawk – the son of skateboarding legend Tony Hawk – showed off his custom 2015 Scion Xb. The one-off SUV sports a shag headliner and carpet among other 1970s retro accouterments.
A press release from Scion explains:
"Every element of this Scion xB represents some part of my life," Riley said.
Beyond his skateboarding career, Hawk is a rock 'n' roll aficionado with an appreciation for 70s style. His xB ride combines those three passions through its high-end sound system, space for skateboards and classic orange and yellow striped paint job. Details like bubble windows, interior wood grain paneling, an 8-track player and requisite shag carpet make it a rolling, retro hangout spot.
Nowhere is the theme of 70s vanning culture more apparent then inside the Xb. Aside from the abundance of shag carpeting, the vehicle features shaved door panels with faux crank electric window handles, wood grain paneling, retro interior door handles, a refrigerator, and four captain seats wrapped in brown leather with Barcelona chair style tufting.
Take a look for yourself…