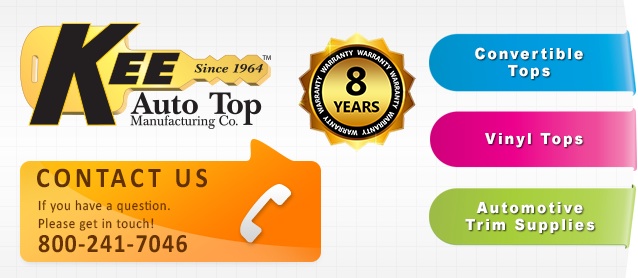 Kee Auto Top would like to wish everyone in The Hog Ring community a happy holiday season, and dedicates its December 2014 newsletter to doing just that. Of course, they're running some fantastic promotions too — so check out this month's issue!
On sale this month are beige/black Stayfast convertible tops for a long list of common makes and models, including:
2000 – 2005 Mitsubishi Eclipse
2004 – 2009 Toyota Solara
1994 – 2004 Chevrolet Camaro
1994 – 2004 Pontiac Firebird
1996 – 2006 Chrysler Sebring, ETC…
To find out how much you'll save, call Kee Auto Top and ask — believe us, you won't be sorry!
Whatever your convertible or vinyl top need, Kee Auto Top has you covered. Their catalog includes tops for nearly every domestic and imported vehicle from 1940 to today. What's more, they accommodate even the busiest shops with same-day shipping worldwide on all in-stock merchandise.
Best of all, Kee Auto Top's staff has hands-on installation experience and provide toll-free tech support for every product they sell. Should you need it, they also offer an outstanding 8-year warranty on all convertible tops.
Check out their December newsletter below: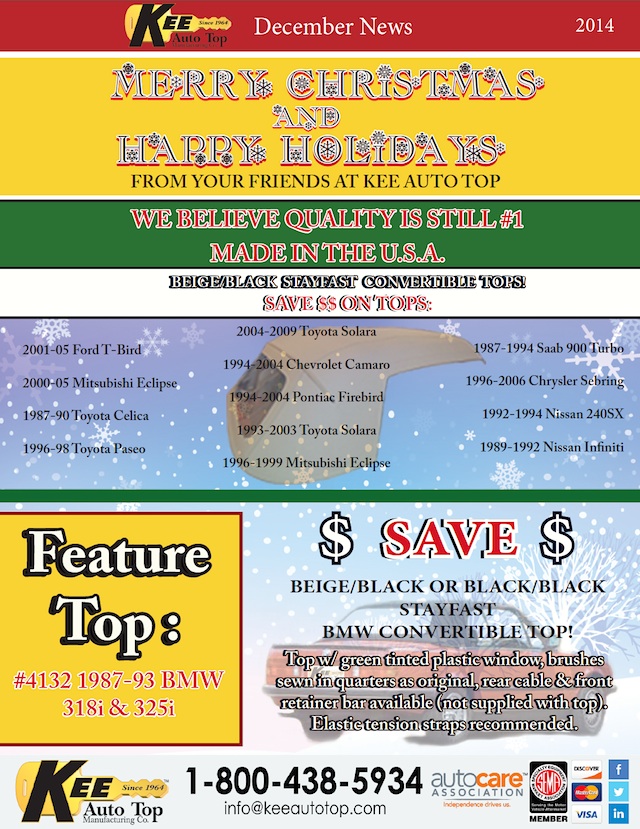 If you haven't already, make sure to follow Kee Auto Top on Facebook and Twitter — where you can learn more about the company, it's fantastic products and stay on top of all their latest sales and promotions.
For additional information on Kee Auto Top's products, visit KeeAutoTop.com or give them a call at (800) 438-5934 or (800) 241-7046.