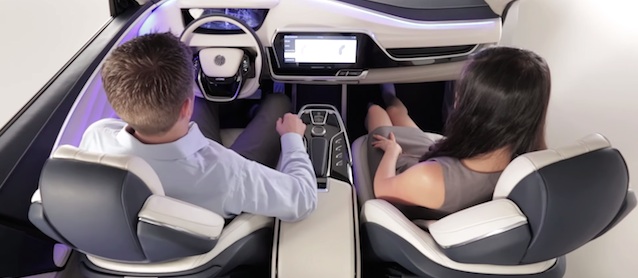 Johnson Controls, one of the world's largest suppliers of vehicle interiors, unveiled its Innovation Demonstrator "ID15" concept interior at this week's North American International Auto Show in Detroit, Michigan — bringing to life many of the design ideas automotive engineers have suggested could one day be featured in the cabins of autonomous vehicles.
In a statement introducing the ID15, Johnson Controls explained that the concept interior was "designed to address the increasing demand for premium materials and features," while also representing "an innovative and realistic autonomous driving interior solution for the next generation of vehicles." In short, the company wanted to cut through all the sci-fi tech geekery surrounding self-driving cars to show people what one would actually look like and, more importantly, how practical it could be.
"The design and development of this concept is based on the interior changes that are necessary to adapt to the autonomous driving experience," explained Han Hendriks, vice president for advanced product development and sales. "The ID15 focuses on meeting consumers' expectations, as our customers look to us as an industry leader to help define the interior of the future."
So what types of "interior changes" can you expect to see in the ID15? Below is a short list by Johnson Controls:
Rotating table – located in a redefined floor console, combined with an 18 degree swiveling seatback, the table allows the driver to engage in activities and more comfortable interaction with second row passengers
Glove box sliding tray – the new functionality provides enhanced storage for mobile devices in the glove box
Smart surface technologies – integrated control technologies enabling activation and control of various functions throughout the interior to provide an appealing and higher level of craftsmanship, and serve as an alternative solution to conventional switches
Illuminated surfaces – to differentiate the experience within the interior of the vehicle, LED lighting across the instrument panel and along the side of the doors helps improve the lighting ambiance throughout, while synchronized functionally to the Auto-drive mode
Sculpted leather surface – allows shapes to be expressed with leather formed surface, providing a premium feel
Tambour door – a new solution to storage in the door panel that provides private, secure storage in the front and rear door panel, and an ergonomically accessed storage space in the center console
Multi-track tambour door – improves functionality by allowing occupants to partition and create separate storage within the floor console
Two-way sliding cool box – a fully integrated luxury feature below the multi-function console allows access to both front and rear passengers
Slim overhead console – reduces weight and package size, increasing space for vehicle occupants
Catch bin – a removable bin allows passengers to easily retrieve small items that fall between the seats and floor console
Sliding large bag storage – sliding large stowage space for large sized hand bags to be used in conjunction with cool box; and
Compression Hybrid Molding (CHyM) – lightweight, natural door panel substrate with increased stability through the combination for natural fiber and plastic
Combined with a unique seating system that adjusts to give passengers "the ability to more conveniently interact" with one another, the ID15 is designed to allow folks to do just about anything – talk, work, play – without worrying about the road ahead. In essence, it transforms vehicle cabins into family rooms.
The following video by Johnson Controls shows exactly how it works:
What do you think? Does Johnson Controls' ID15 open an exciting new chapter in the automotive industry, or does it ruin the traditional motoring experience? And in what ways – positive or negative – do you think such interiors will affect our craft, auto upholstery?