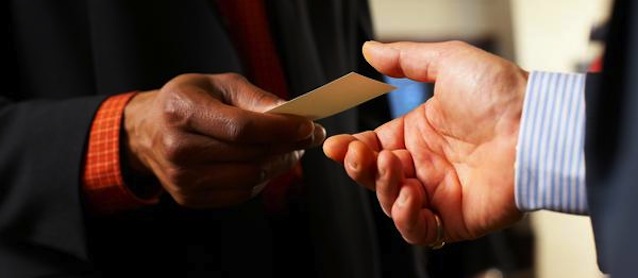 The business card has stood the test of time as one of the most effective marketing tools a company can employ. The reason is simple – it features your contact information, and is easy to carry and pass along. While most auto upholstery shops have the basics of a good business card down – shop name, slogan, phone number and address; there are other bits of information that can be added to enhance its usefulness.
Below are four additions you should consider making to your next order of business cards.
1. Include a Map
Whether you're handing someone a business card or someone else is doing it for you, the first question recipients often ask is where your shop is located. Make it easy for potential customers to find your shop by printing a map on the backside of your business card. Nothing too fancy – just a drawing of how to get to your garage from the nearest main road or recognizable landmark. Maps are especially helpful for shops located on back roads.
2. Leave Space for Estimates
If you don't need a map, consider printing lines on the backside of your business card to write notes or estimates. With the number of customers you see per week, it can be difficult to keep track of price quotes. Detail the job and cost on the reverse side of a card before handing it to a customer, and instruct him/her to bring it back when ready to have the job done. This way both you and the customer are reminded of the cost. Just be sure not to order glossy business cards – as the ink will smear.
3. Consider Quick Response Codes
Quick Response (QR) codes are barcodes that smart phones scan to access information on a product or company. With the popularity of QR codes on the rise, it's a good idea to make one for your business and print it on your card. These barcodes can hold far more information than a business card, and may link directly to your website or social networking page. Search for "quick response code generators" in Google for a list of sites that offer QR codes for free.
4. Feature Your Online Presence
If QR codes are too advanced for you – no problem. But at least print your shop's website, email address and social networking accounts (Facebook/Twitter) on your business card. The days of only having a phone number and address are long gone. To compete in today's business environment, you need a virtual presence as well.
Of course, don't forget the simple stuff that never change. Keep your business card at 3.5" x 2" so that it fits into a wallet or Rolodex; use bold, clear fonts so that the information is easy to read; and if your company has a branded logo and color scheme, stick to it.
Are your business cards unique? Share with us any tips or tricks you've used to make your business cards stand out and be more useful in the comments section below.