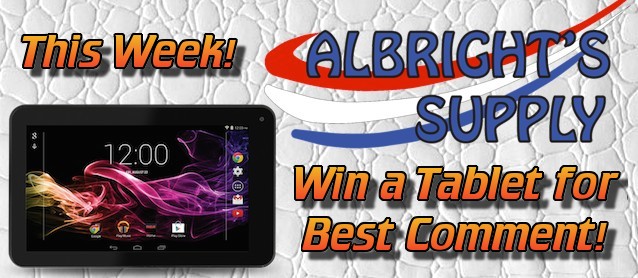 We're kicking off March with a BANG and giving away something that's both fun and necessary for every modern garage: a computer tablet!
Albright's Supply, home to everything you need to get the job done, is sponsoring our latest "Comment of the Week" give away by putting up a 7-inch RCA computer tablet and folding case as the prize!
This Android-based tablet has a quad-core processor, 8GB hard drive, web cam and more! What can you use it for? How about…
Updating your website and Facebook page with photos of your latest projects, networking with potential customers, responding to important business emails, and paying your bills online?
Logging onto The Hog Ring to read our latest articles, seek tips and advice from fellow trimmers in our Auto Upholstery Forum, and take advantage of our free online resources?
Visiting the Albright's Supply web store to check out their latest sales and promotions, stock up on auto and marine fabrics and supplies, and take advantage of free shipping?
Want to win? The rules are simple. Read any article or forum thread (new or old) on The Hog Ring and leave a comment. At the end of the week our editors will choose the trimmer who left the best comment, and send him/her the prize! The more you comment, the better chance you have of winning!
What makes a comment the best? It could be anything that adds value to our auto upholstery community. We're particularly fond of comments that offer help, advice or constructive criticism. Smart and witty ones are great too! Basically, we want to reward folks that help make this site the awesome resource that it is.
Special thanks to Albright's Supply! Specializing in automotive and marine trim, Albright's Supply has one of the largest inventories in the United States and a network that extends throughout the country. They're known and trusted throughout the upholstery industry for providing outstanding value and superior customer service. In fact, Albright's Supply will often go out of their way to find customers trim products they don't carry, and even provide free shipping on all orders of $150 or more.
To learn more about Albright's Supply, visit AlbrightsSupply.com or call (662) 287-1451. Also, keep your eyes on The Hog Ring, where we frequently feature their latest sales and promotions.