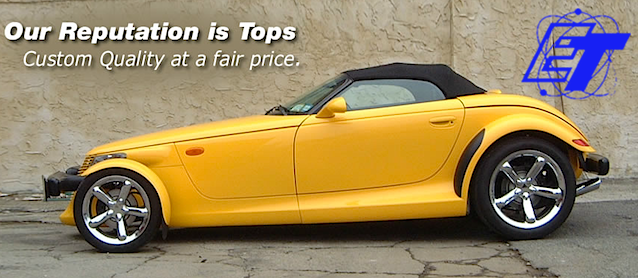 In its March 2015 issue of "Keep in Touch!", Electron Top reaffirms its commitment to the auto upholstery community that it will never sell its convertible tops directly to the public and addresses concerns about distributors who do.
Below is an excerpt from the newsletter:
Our Auto Trim industry had maintained a unity amongst one another (manufacturers, distributors and upholstery shops) which provided an opportunity for us all to flourish and be successful. That "unity" has been broken by manufacturers whom choose to sell outside our industry by venturing into direct retail sales either directly or through their own subsidiary companies.
Some of you have voiced your concerns regarding convertible tops being "Bought and Brought" by retail customers and you have responded appropriately by raising your labor rates, not extending your warrantee on items you do not furnish, refusing to install products you do not supply or insisting on open end labor times to insure you stay profitable when dealing with unfamiliar, sub-quality, no-name, brown-box convertible tops.
Our response has been to continue being loyal to those whom have always supported us which includes our Distributors. Like the majority of you we are a small family owned business. WE have dug our heels in the ground by refusing to sell over the Internet, which has not come without consequences.
To be clear, Electron Top only has three types of customers: auto upholstery shops, full stocking distributors and special interest distributors (those who specialize in specific models). What's more, distributors must adhere to specific criteria to do business with Electron Top.
Unlike some other convertible top manufacturers, Electron Top has not created a subsidiary to sell directly to the public — as doing so would be a breach of trust with auto trimmers.
At a time when convertible top manufacturers are coming under increasing pressure to sell their products online directly to the public, Electron Top remains firm in its position against the practice. Make no mistake about it, they are losing money by doing so. However, Electron Top values the sustainability of our craft over making a quick buck.
Loyalty that strong is rare in this day and age and deserves our support. Please show your appreciation by giving Electron Top your business.
You can read Electron Top's March 2015 newsletter in full below:
null
To learn more about Electron Top's quality products or to set up a business account, visit ElectronTop.com or call (800) 221-4476.