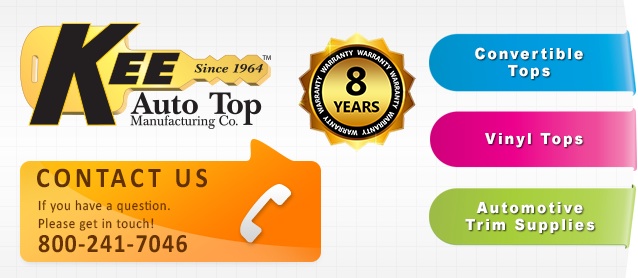 With the arrival of spring comes convertible top season. And Kee Auto Top is celebrating by offering free shipping on select tops and glass windows throughout the month of April.

The promotion applies to Audi, BMW, Mercedes-Benz, Mitsubishi, Porsche, Saab and Toyota tops — including convertible top/glass packages in black/black or beige/black Stayfast or Twill.
Auto upholstery shops forecasting a busy spring and summer would be wise to take advantage of the promotion before it expires and stock up on convertible tops now.
Not what you need? No problem. Kee Auto Top offers an impressive range of quality manufactured convertible and vinyl tops. In fact, their 2015 Sample Chart will be made available soon. Kee explains:
Kee is proud to show off our extensive selection of 110 convertible top samples and 149 vinyl top samples. Not only does the convertible chart show material samples, but describes the principal types of materials, their construction and benefits of each.
The vinyl top chart displays many older colors and hard to find grains. For example, Boar and Levant non-padded, Odense, Calvary Twill and Houndstooth to name a few.
Want to save even more? Send Kee a photograph of one of their convertible or vinyl tops installed. If they use it in an advertisement, they'll give you an extra 5% off their already low prices.
Check out Kee Auto Top's April 2015 newsletter for promotion details, as well as a helpful "trimmer tip" on installing 1953-2004 Corvette convertible tops.
Click on the newsletter below to download your free copy: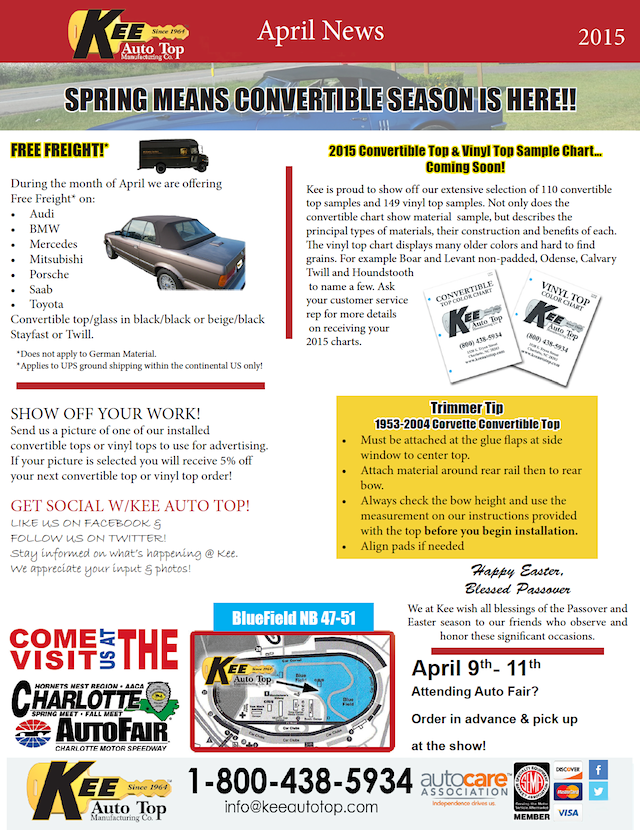 If you haven't already, make sure to follow Kee Auto Top on Facebook and Twitter — where you can learn more about the company, it's fantastic products and stay on top of all their latest sales and promotions.
And remember, whatever your convertible or vinyl top need, Kee Auto Top has you covered. Their catalog includes tops for nearly every domestic and imported vehicle from 1940 to today. What's more, they accommodate even the busiest shops with same-day shipping worldwide on all in-stock merchandise.
For additional information on Kee Auto Top's products or to request a 2015 Sample Chart, visit KeeAutoTop.com or give them a call at (800) 241-7046 or (800) 438-5934.