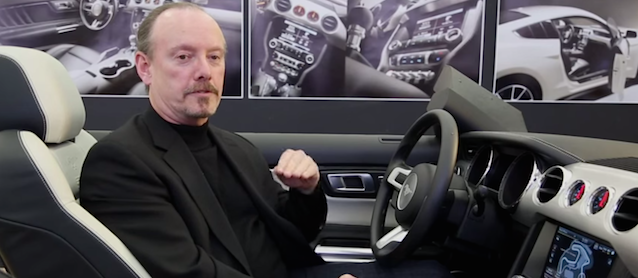 Ford Motor Company shot a video documentary on the design and development of the all-new 2015 Mustang, and is publishing it online in a series of chapters to mark the iconic vehicle's 50th anniversary.
Last week, Ford published "Chapter One: Exterior Design" — which showed a collaborative effort by project managers, designers and engineers to get the new Mustang's body just right. However, what we're most excited about is the second chapter, which tackles the cabin.
"Chapter Two: Interior Design" offers viewers a behind-the-scenes-look at how Ford's design team created the Mustang's interior. While the video primarily focuses on the shape and design of the dashboard, the "color and materials team" does make a brief appearance.
Unfortunately, we don't get to see how upholsterers and fabricators crafted the cabin. I assume that's because Ford — like most large automakers these day — designs its cars in-house and outsources the work to third parties. Nevertheless, it's interesting to see how the big guys do it.
What do you think? As interesting as the video is, it does leave me wondering how different the design process and end product would be if actual craftsmen were involved in such meetings. Leave your thoughts in the comments section below.