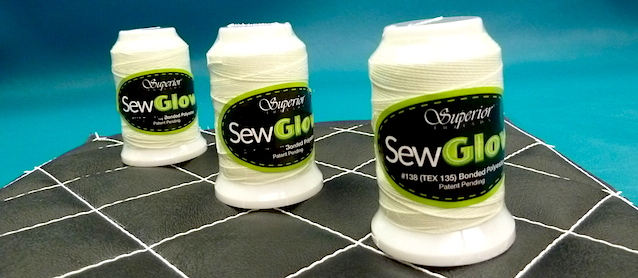 Auto upholstery shops that do a lot of custom interiors – especially on tuners, lowriders and other wild styled cars – should consider upselling customers on SewGlow, the world's first industrial glow-in-the-dark sewing thread.
Superior Threads, the company behind the new product, recently sent us samples to try and give away on The Hog Ring. What follows is our short review.
What is SewGlow?
SewGlow is a patent-pending, glow-in-the-dark bonded polyester thread intended for both indoor and outdoor use. Its Tex 240 size, which is comparable to #207 or #277 sizes, allows it to be used for heavy duty sewing applications without chance of breaking or fraying. Currently, it's only available in white, which glows neon green. However, a blue glow-in-the-dark thread is in production and should be available in August.
How does SewGlow work?
SewGlow is made from a blend of bonded polyester with a special glow-in-the-dark pigment that is impregnated into the fiber during the manufacturing process. Like a lot of glow-in-the-dark products, the thread charges in light. When exposed to darkness, it glows extremely bright for several minutes. A softer glow will remain for hours.
What do we think of SewGlow?
Given that SewGlow is the world's first industrial glow-in-the-dark thread, we were understandably skeptical. However, the fact is it actually works.
We threaded a 100-yard cone of SewGlow's white thread through our Juki 1508n machine and sewed a series of diamond pleats. The thread was high quality and didn't fray at all. The only thing we didn't like is that its color isn't pure white. Instead, the thread has a slight green hue to it — which is pretty common for most glow-in-the-dark products, but could be problematic depending on the interior you're trimming.
After we finished sewing the pleats, we switched off the lights and were immediately impressed with SewGlow's performance. As advertised, the thread shined bright green. Its thick 240 size made the stitch work especially pronounced. In fact, we were so excited by SewGlow that we couldn't stop switching the lights off and on to see it in action.
Yes, SewGlow is a bit gimmicky. And no, it doesn't hold much practical use. But that's not the point. This glow-in-the-dark thread was created for customers who like to stand out and show off. It's cool, unique and definitely well suited to be used as contrast thread in custom car interiors or on motorcycle seats.
Of course, the jury is still out on how permanent the thread's glow-in-the-dark properties will last, but Jon Cole, vice president of Superior Threads, told us that shouldn't be an issue. "Like any other thread, if it is taking abuse or significant wear, that will affect it," he said. Fair enough, right?
Unfortunately, we found it difficult to actually capture SewGlow on camera — but that's more of a reflection on our poor equipment than the product. To see the glowing thread in action, check out the video below and order a cone to try yourself.
Where can you buy SewGlow?
You can purchase SewGlow at SuperiorThreads.com. It's available in two cone sizes: regular (100 yards) sells for $25.15 and large (250 yards) sells for $61.40.
Win a free cone of SewGlow!
This week only, we're giving away 100-yard cones of SewGlow. For details on how to win, follows The Hog Ring on Facebook and Instagram— where we'll be announcing the contests!