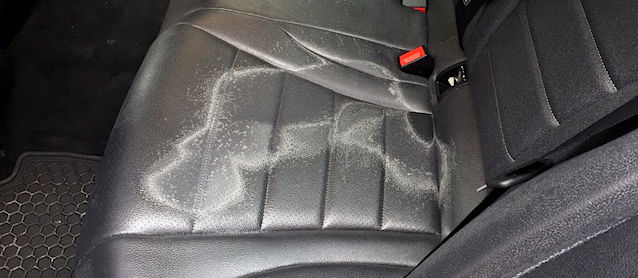 The 2015 Mercedes-Benz C300 has an upholstery problem. Owners are reporting multiple issues with its MB-Tex imitation leather — including discoloration, white splotches that come and go with cold and humid weather, and greasy looking stains that appear wet, but are actually dry to the touch.
Auto upholstery shops that see customers reporting similar problems should promptly inform them that Mercedes-Benz has identified the issue as seat-sealants sweating to the surface during extreme temperatures, and has issued a remedy.
"Daimler AG became aware that, in a small number of individual cases, it is possible for temporary spots and/or shiny patches to form on the man-made leather surfaces of the 2015 C-Class in sub-freezing temperatures," Mercedes-Benz said.
Mercedes-Benz contends that the issue is isolated, however car forums seem to suggest that it's more widespread than the automaker is letting on.
For now, Mercedes-Benz is offering replacement seat covers and accent trim for vehicles manufactured before Jan. 5, 2015. The install, which is being handled by Mercedes-Benz technicians and restyling/upholstery shops partnered with local dealers, appears to be quick and easy. Of course, the materials and work are under warranty.
If your auto upholstery shop works closely with local Mercedes-Benz dealers, contact them to say you're aware of the problem and ready to begin servicing their vehicles.