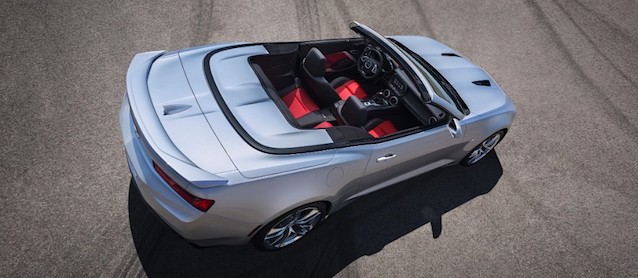 Just when you thought the Camaro couldn't get any more retro, the all-new model is set to feature a fully automatic convertible soft top that functions similarly to how it did nearly 30 years ago.
Redesigned for 2016, the sixth-generation Camaro's convertible top activates at the press of a button — which triggers the roof's rear assembly to lift, allowing a hard-shell boot to open, the top to retract into an exposed well and the boot to close over it. The driver doesn't even have to undue any latches.
Industry veterans will recall that the third-generation Camaro, outfitted with convertible tops by A.S.C. from 1987 to 1992, was the only other model to operate this way — except it was completely manual. Other generation tops featured latches, retracted from the front and fell into open wells.
What makes the 2016 top even more unique is that it can be raised while driving up to 30 mph and activated from a key fob.
To see the new top, which Chevy calls "Open Sky," in action, check out the following video:
… more evidence that convertible tops are making a major comeback!