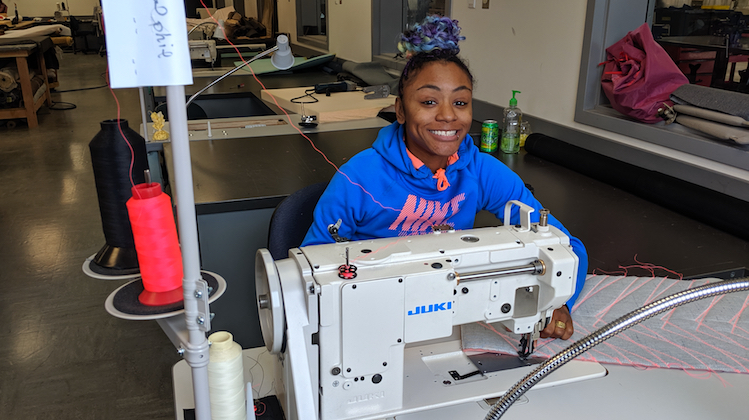 We interview a lot of master craftsmen, but how about a student for a change?
Lauren "Ralphie" Marusic is enrolled at Clover Park Technical College in Lakewood, Washington, where she's learning furniture and automotive upholstery.
As the daughter of a fashion designer, Ralphie learned how to operate a sewing machine at a young age. However, she didn't apply that skill to auto interiors until her early 20's.
It was the challenge of customizing her own car and a job at a local auto shop that eventually set her on a path to pursue auto upholstery as a career.
As she nears the end of her program, we spoke with Ralphie about her passion for auto upholstery, her future plans and what inspires her "wild style."
Why did you decide to study upholstery? It's not a craft that attracts a lot of young people.
When I was about 9 years old, my mother taught me how to sew. She used to be a fashion designer and made all of my dresses and hats. Although making clothes wasn't my interest, sewing was.
In 2012, I got my second car — a 1988 Ford Taurus. I hated the interior color. It was this bright red carpet looking material. At the time, I didn't know anything about upholstery, but I did figure out how to take things apart.
So I took off the door panels.
My version of upholstery at that time was just gluing and wrapping fabric around pieces of my car. I wrapped the door panel in gray canvas with black accent pieces that had iridescent blue and purple strips that were painted on using puffy paints.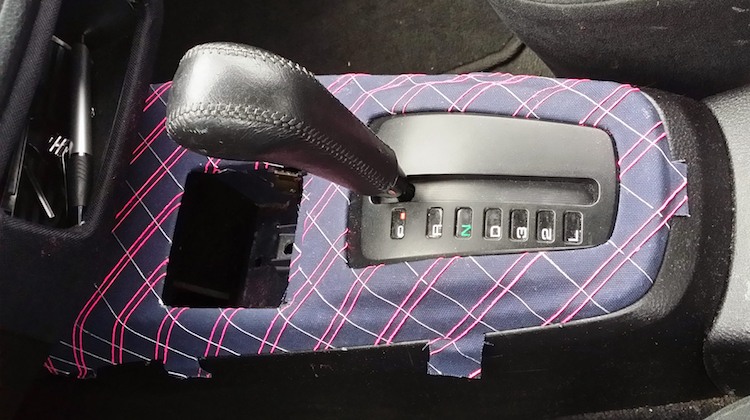 Later, I owned a 2003 Mitsubishi Lancer, which was also stripped and wrapped in the same way, but that car went through a multitude of colors and designs.
After moving to Savannah, Georgia, I got a job at a custom auto shop that specializes in leather kits, window tinting, audio installs, etc. While helping my coworkers with leather kits, I realized upholstery is where I wanted to show my sewing skills.
I eventually moved back to Washington and enrolled in Clover Park Technical College's upholstery program.
What sort of things do you learn there? Is it all pattern making and sewing, or do you also do headliners, carpets and convertible tops?
We learn a little bit of everything, even some things we weren't expecting to learn.
But yes, we do learn pattern making and sewing, we do headliners and carpets too. We haven't learned convertible tops just yet. But it could happen at any time.
Our classroom offers a wide variety of projects, simply because everyone brings something different to work on. So everyone else's project is a learning experience.
What aspects of auto upholstery have you found to be the easiest to learn? How about the most difficult?
I would say the easiest is pattern making. Although it's a very tedious process, it's easy to figure out how to make proper shapes that you're aiming for.
Door panels with a lot of curves are pretty challenging at times. But I love challenges.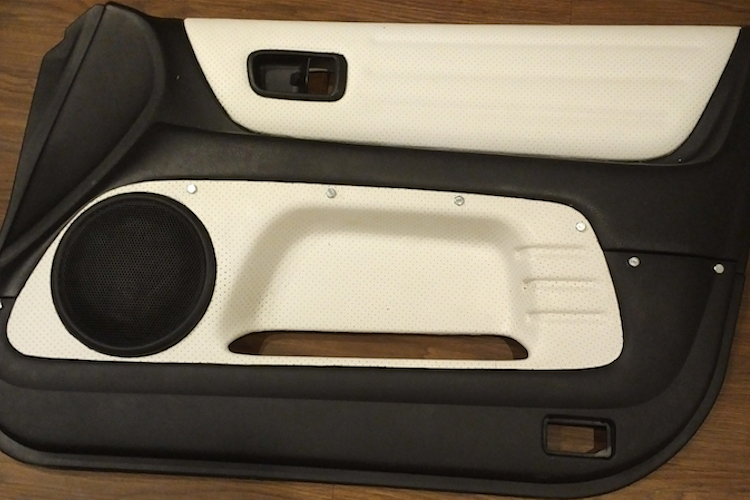 Do you have a particular style of auto upholstery? Or are you still figuring that out?
I have a wild style of upholstery. Everything I upholster in a car has some type of crazy design.
I tend to use a lot of vibrant colors that glow under black lights. I also like to experiment using fabrics that are not intended for use in a car. But I somehow always manage to make them work.
Where do you get your 'wild style' inspiration from?
My parents inspire me. They're both very creative individuals who taught me and continue to teach me from their crafts.
Also, The Hog Ring. I came across your Instagram page a while back, and the creations I saw inspired me to want to be a better upholsterer. Many of the creations that are shown on your page are just mind boggling. There's so much detail, and so many different creations that you never see anywhere else. Makes me feel like anything is possible.
Can you tell us about your latest project?
I'm currently working on my own vehicle. It's a 2001 Lexus IS 300.
The car came with a pristine interior, original tan leather and suede. But I wanted to do something different.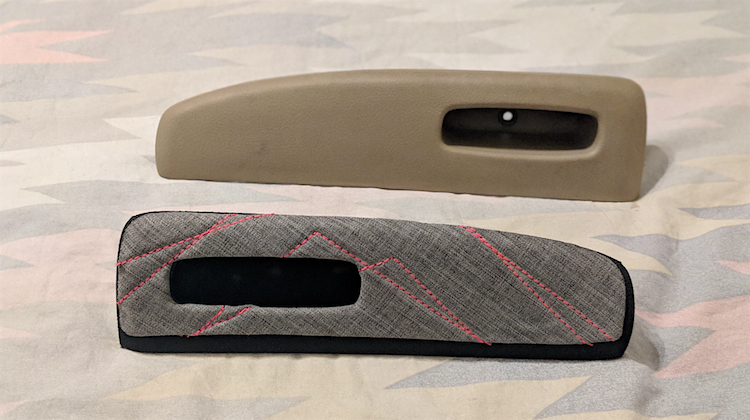 I'm upholstering the interior in a lightweight gray fabric, with neon coral stitching. Followed by plain black cordura.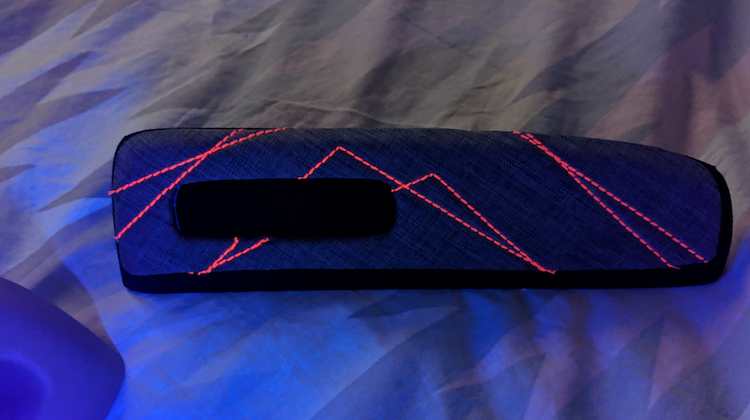 The headliner is completed in the same fabrics. Which also include mini black led lights, installed all throughout the headliner, which gives a fantastic glow at night.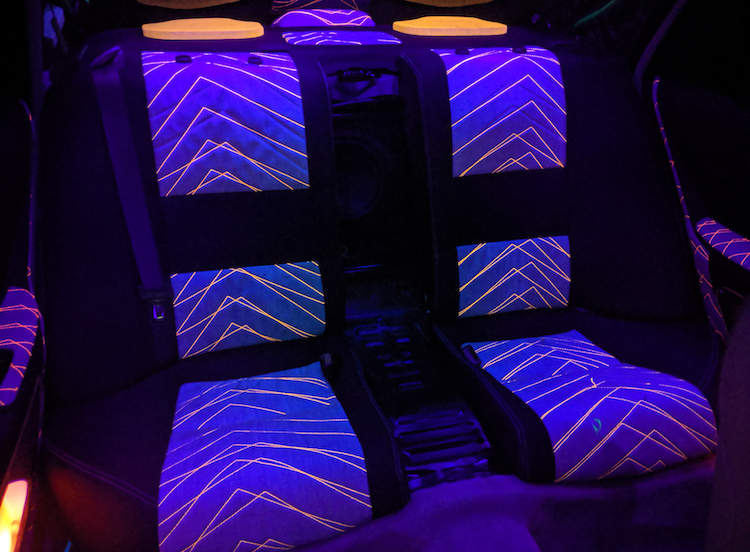 I cut the back seat in two separate seats, which eliminated the middle arm rest. I'll replace it with either a pull-out mini tool drawer and reliable cup holders, or a sub inlay. That part is still undecided.
The dashboard will also go through some sort of redesign in the near future.
Aside from auto upholstery, I'm also working on a chaise lounge with a built-in storage compartment and some custom bags/backpacks.
In a school video about your program, you said auto upholstery is a 'lost art.' What did you mean by that?
It's an art that only a few people have the real skill and patience for. It's a skill that can be taught. But creativity is within. So not everyone's creation will be the same. Because everyone gets inspired from different things.
But it's a lost art, because I feel like the majority of people don't have a vision to take something old and completely redesign it. So it's an art that people forget still exists.
Speaking with some of my friends outside the trade, they don't even realize that upholstery is a thing. They think that furniture or auto seats come like that from a factory. They don't realize that real people actually sew, staple, nail etc.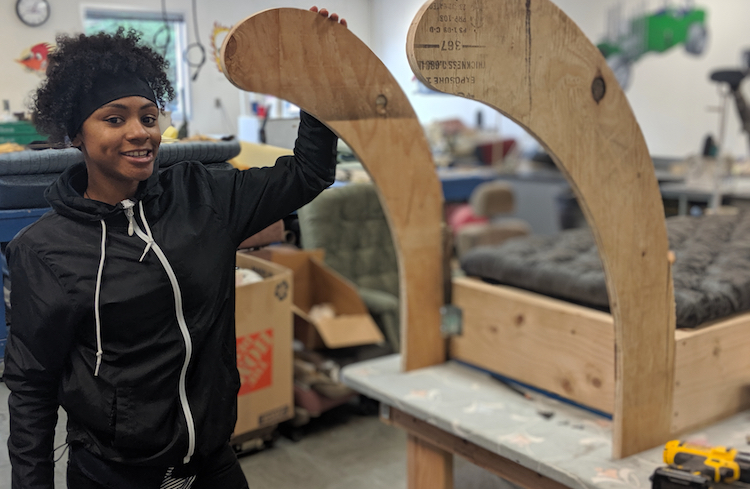 After you graduate, what's the next career step?
After I graduate, I would like to find work in an established upholstery shop. I want to be able to gain some type of real-world experience. And eventually open up my own shop, which will specialize in a variety of the automotive trades. Such as: Upholstery, window tinting, vinyl wrapping, auto mechanics, etc.
Within 10 years, I hope I'm a well-established upholsterer who does work for big names and big companies.
To follow Ralphie's career, follow her on Instagram.