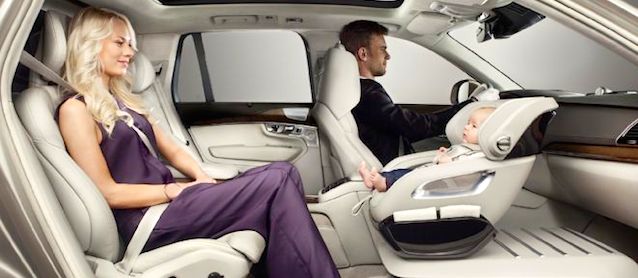 Forget everything you know about child safety seats, Volvo Group just reinvented the way they look and function in cars.
The automaker's "Excellence Child Seat" replaces the front passenger seat in its popular XC90 luxury SUV to allow for a child to sit up front, but still face backwards, so that a parent sitting on the rear seat could keep a closer watch and tend to the youngster's needs. The seat is positioned on a base that, like a traditional front seat, is bolted to the ground and moves both forward and backward. It also swivels outward to allow parents to easily place their child in the seat, and even features a handy baby cabinet underneath.
"We started by asking ourselves if we could make life easier for parents and safer for their children when it comes to the child seat experience," said Tisha Johnson, Chief Designer of Interiors at Volvo Cars Concept and Monitoring Center. "We focused on three key benefits – making it easier to get the child into and out of the child seat from an ergonomic and comfort perspective, providing the child with a safe rearward facing seating position that enables it to keep eye-contact with either the driver or the rear passenger and of course including enough storage for those vital child accessories, such as diapers, bottles, wipes, and so on."
According to Johnson, the seat is not only convenient for parents, but more importantly safe for children.
"For us the safety, convenience, and emotional factors outweigh everything else. Being able to maintain eye contact with your child from the rear seat , or being able to keep a bottle warm in the heated cup holders in the XC90 Excellence, would go a long way towards making life easier for parents taking their small child on a trip," she said.
For now, the seat is still a concept. However, Volvo says that "such alternative seating arrangement will become increasingly important as we move towards autonomous vehicles." Only time will tell…