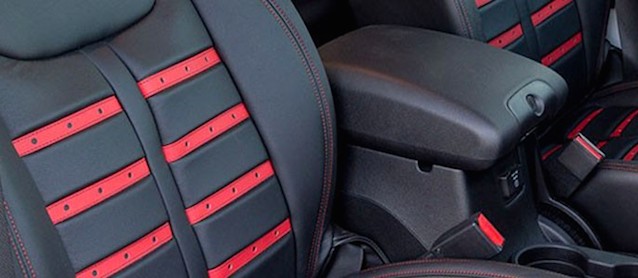 A lot of auto upholstery shops sell and install leather seat covers manufactured by reputable companies like Alea Leather Specialist, Inc. However, most only cater to individual customers. To really cash in on the market, shops need to forge strong relationships with car dealerships.
In his latest article for Restyling & Truck Accessories magazine, professional restyler and SEMA PRO council member Josh Poulson shares some tips and advice on how to get the most out of these relationships.
Below is a short excerpt from his article titled "The Scent of Leather (and Money)."
The…challenge with leather interiors is overall awareness of the product. Very few car buyers know that the cloth interior of any vehicle can be switched to leather without having to buy the higher trim level of the model they are looking at.
In fact, we still find car salespeople who are also unaware that this can be done. For this reason it takes an active marketing campaign that needs to be constant to build awareness. A consistent face-to-face sales visit at dealerships to build awareness is key.
Train the dealership's sales staff to help them see the value of upgrading a vehicle to leather for their customer instead of jumping to the higher trim level of the same car is not only more profitable for the salesperson but also less expensive for the customer. Win-win situations are usually well received.
This is an ongoing challenge for restylers and leather manufacturers. However, if you can meet the challenge you will be successful and be able to get that smile on your face knowing you just made someone's upgrade a positive experience!
To read the full article article in the July 2015 issue of Restyling & Truck Accessories magazine, click here. To learn more about Alea Leather, our leather seat cover manufacturer of choice, visit AleaLeather.com.