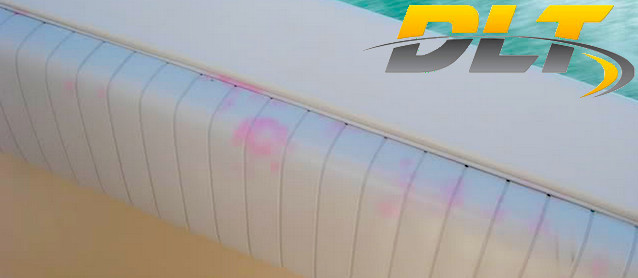 Curious what causes unsightly pink stains on white vinyl? DLT Upholstery Supply published an explanation that debunks the myth of mildew, and provides tips on how to prevent it.
It's a short read, but definitely an interesting one that trim shops should share with their customers — especially those with boats, as the pink stain is most commonly found on marine upholstery.
DLT Upholstery Supply writes:
A common myth is that pink stain is mildew or mold. It is really a by-product of a bacterial microorganism. This organism's by-product, a pink/red dye, is soluble in plasticizer, which is the main ingredient in upholstery vinyl. When this by-product comes in contact with vinyl it causes the pink stain. Wind or rain can carry these microorganisms onto your marine upholstery. These organisms can live and grow in the foam cushion. This too will cause the pink stain on the vinyl.
The number one rule of thumb is to cover your boat or cushions, but still allowing ventilation. Keeping in mind this not only keeps them dry, but also reduces the effect of UV sunlight.
Proper cleaning of your vinyl seats and cushions also aids in reducing the appearance of pink stain. Do not use harsh non-approved cleaners. Using mild detergent such as Ivory or Dawn soap is best. The contamination can also be removed by washing with a very diluted solution of household bleach in water. Always rinse and dry thoroughly. There are cleaners specifically made for vinyl, for example, Sprayway Vinyl/Leather Cleaner 990, available at boat dealers or online. Any powdery abrasives, steel wool, etc., can cause permanent damage and discoloration to the vinyl.
Make sure the vinyl, thread and foam that is used is marine grade, treated with anti-fungal and antibacterial additives, as well as a UV treatment.
DLT Upholstery Supply carries all types of automotive and marine vinyl and original fabrics, as well as supplies like thread, glue and fasteners. Best of all, DLT is a family-owned and operated business – so you can count on them to treat you well.
To set up a business account today, call (800) 458-3500. You can also browse their products online by visiting DLTCorporation.com.