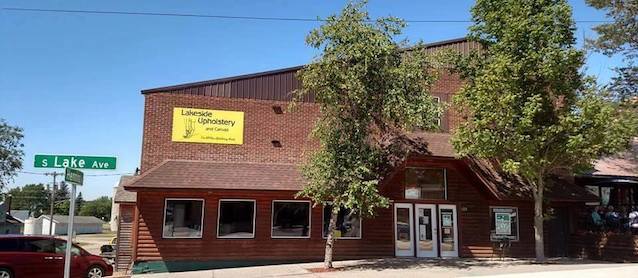 With the auto upholstery community being as small as it is, it's always a celebration when a new shop opens. So please join us in welcoming Lakeside Upholstery & Canvas Inc. to the mix.
The shop – which opened on Aug. 3 in Battle Lake, Minnesota and specializes in a range of upholstery services – is owned and operated by veteran trimmer Jason Bartlett.
A recent profile in the local Fergus Falls Journal explains:
Bartlett previously had a storefront in Milaca and decided to move back to Battle Lake, where he lived from 1999 to 2005, to provide upholstery repair and replacement to an area that uses recreation vehicles frequently. […]
Bartlett said he missed the community of Battle Lake and felt immediately back at home when he moved to town this year.
"It's like I never left. I love this town," Bartlett said. "I can't say enough about the people here." […]
Bartlett has done upholstery work since 1982 and is originally from Minneapolis. He got his start doing work on boats and pontoons and still uses his same trusty sewing machine from back then as well. He said he prefers the small-town atmosphere of Battle Lake over Minneapolis.
"I have never felt so welcome as I do here, even more than back home," he said.
Best of luck Jason in your new shop! The Hog Ring is rooting for your success!
To learn more about Lakeside Upholstery & Canvas, read "New Battle Lake business offers upholstery repair." Also, be sure to check out their Facebook and website.