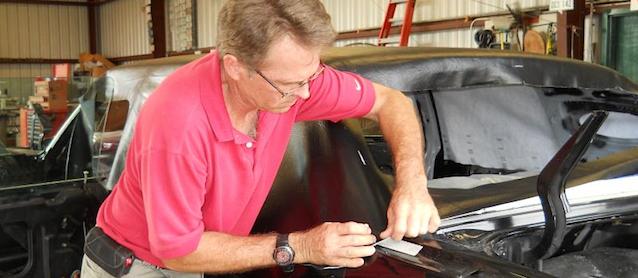 In 1988, Halvorsen Auto Restyling opened its doors in Sebring, Florida with $300, a set of borrowed tools and expertise in only one aspect of the craft, vinyl top repairs. Today, it's a thriving auto upholstery shop that offers a range of services and enjoys a strong reputation for excellence.
In a recent profile for local newspaper Highlands Today, owners Lyle and Erin Halvorsen share a bit of their backstory, as well as some insight on how they've been able to achieve such success.
Below is an excerpt from the article:
While vinyl top customization has faded away, Halvorsen finds the demand for his trade continues to grow. "A lot of the experts are retiring," explains Halvorsen. "There just aren't many of us left out there."
Popularity of leather seating upgrades and the ongoing need for headliner repair means Halvorsen doesn't just focus on luxury or high end cars. "The bulk of my business focuses on American cars," says Halvorsen, adding if you have a special need for a classic car he is the ones to come see. "Stop by and talk to me about what you want to do and we'll figure it out."
Priding himself on quality work has led to his reputation for meticulous attention to detail. "You can't start a job and not finish it," he insists. "You keep at it and persevere until its right. This is such a specialized part of automotive repair. A lot of time folks don't know where to go when they have a problem with their headliner or seating." […]
In addition to headliners, Halvorsen Auto Restyling also installs chrome appointments, carpet, running boards and more. "Folks are realizing the investment they've made and are keeping their vehicles longer. Rather than trade it in, come see me and let me upgrade or refurbish it for you."
The piece ends with a comment from Erin that perfectly sums up their approach to business. It's a formula that every professional auto upholsterer should follow:
"We are honest and sincere, give personalized service along with quality work at a fair price. We've been here for 27 years and plan to be here another 20 years. We work really hard to connect with our customers and genuinely appreciate your ongoing business."
To read the full article, see "Over the Top." To read more shop profiles on The Hog Ring, visit our "Shop Profiles" section.