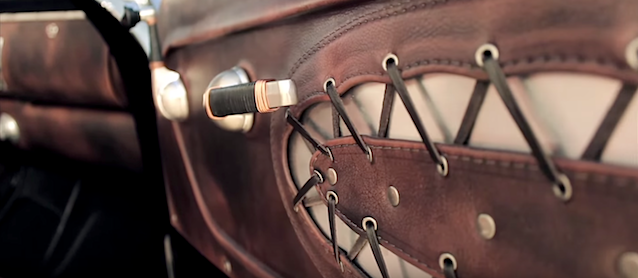 Need some inspiration? Check out this custom 1959 Chevrolet Apache upholstered by HixDesign in Norman, Oklahoma.
Nicknamed "Shotgun," this old school pickup truck is everything you need to turn heads at a car show or rob a bank — your choice. It's cloaked in distressed leather, gussied up with leather lacing and emblazoned with bullet casings. That's not all, it features a gorgeous leather-padded rear bumper, custom leather holster on the steering wheel column and even a shotgun drawer under the bench.
Forget "The Good, The Bad and The Ugly"— this cowgirl is nothing short of gorgeous!
We reached out to Kyle Hix, owner and operator of HixDesign, to ask what inspired such a badass interior. Here's what he said:
"We wanted to create a vintage inspired truck for the modern day outlaw. Vintage distressed leather and lots of details pulled this one all together. We wanted to keep the exterior unassuming and the interior tough and rugged."
Mission accomplished. But don't just take our word for it, see for yourself…
To learn more about HixDesign, follow them on Facebook and Instagram. To see more knock-out car interiors, check out The Hog Ring's "Upholstery Showcase" section.