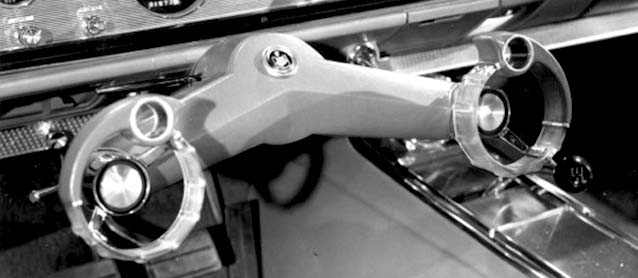 In 1965, an ex-missile engineer working for Ford Motor Company reinvented the steering wheel to allow drivers to navigate their vehicles using a pair of twist dials. The gizmo, appropriately named the "Wrist Twist" steering control, offered some advantages, but never caught on. It also went down in automotive history as one of the strangest re-engineering efforts of all time.
The Mercury Park Lane was the first vehicle to feature the Wrist Twist, which consisted of two 5-inch rings, each with its own hand rest. To steer the vehicle, a driver had to turn both rings simultaneously. Advantages of the steering control included more seat room and better visibility. However, test drivers were never all that impressed.
A reviewer for Popular Mechanics wrote in 1965 that the Wrist Twist made his car feel like a "kangaroo with hiccups."
With the steering rings low over my lap and my elbows resting on the seat's built-in arm rests, I felt comfortable—but odd. Visibility was splendid, but I missed the support of the steering wheel. I felt like the first astronaut.
…I fired up the engine, went through a mental count-down, and eased the Merc through the gate, as gingerly as a nudist in a cactus patch. On the street, I found myself holding my breath. Every twitch of the wrist resulted in a jerk. The car felt like a kangaroo with hiccups.
Corner coming up. I pushed down on one ring and up on the other, trying to twist the entire yoke. The car wobbled embarrassingly and continued straight ahead. As we approached the next corner, I concentrated very hard. "Just twist the little bracelets," I thought, "not the whole body car." I twisted, and the car lurched toward the right. It almost climbed the curb before I corrected.
Still, in the end, the reviewer conceded that he had become a "fan" of the Wrist Twist. To see the steering control in action, watch the following Ford promo video.
If you think the Wrist Twist is cool, check out The Hog Ring's "Industry History" section to see more quirky inventions that were once featured in car interiors.