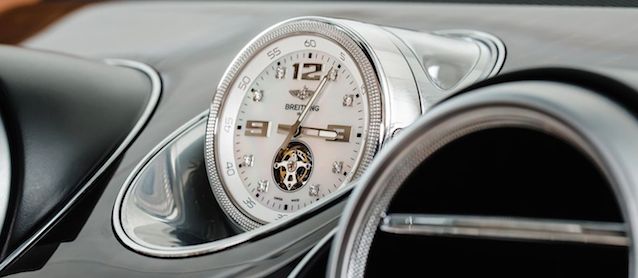 Bentley Motors just announced that its first SUV, the Bentayga, will feature an optional gold and diamond-encrusted dashboard clock worth more than the vehicle itself.
Starting at $229,100, the Bentayga is the most expensive SUV to ever hit the market. The optional clock, built by Breitling Mulliner Tourbillon, will cost an additional $234,000 — for a whopping total of $463,100. Of course, that's if buyers don't splurge for other upgrades as well.
CNBC explains why the clock costs so much:
The maker justifies the price by explaining the clock has "the most complex of watch mechanisms."
That means a mechanical, rather than electrical, self-winding mechanism. That's easy to operate when you're wearing one on your wrist, but to ensure the Mulliner Tourbillon stays wound on the dashboard, Bentley will build in an unusual mechanism that will spin the clock around three times every 15 minutes. And just to be sure—or simply to impress friends—a motorist will have a button to tap to spin the watch one more time. […]
[I]t will only be offered in solid gold—though you will be able to choose between white or rose gold. A customer also will be able to pick from a black ebony or mother-of-pearl face. The clock is completed with eight large diamonds. [read more]
I guess it's true what they say… "time is money" … right?