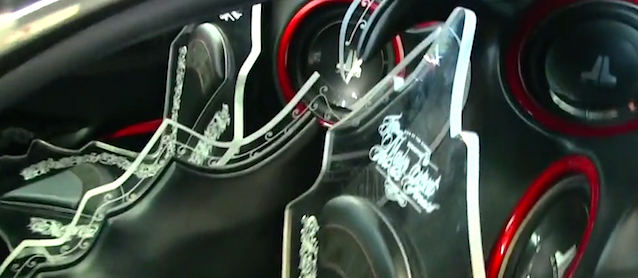 Just when you thought you'd seen it all, Ultimate Audio of Lexington, South Carolina went ahead and fabricated the front seats of this Ford Mustang out of plexiglass.
Ultimate Audio, which specializes in everything from stereo systems to custom upholstery, was commissioned to do something unique with the interior of this show car and boy did they deliver!
Among other one-off interior components, they fabricated front bucket seats out of plexiglass, etched with graffiti art and fashioned with small, triangular cushions. For extra measure, they also lined the seats with LED bulbs that create a magnificent red glow throughout the cabin.
Take a look for yourself:
Of course, transparent seats aren't new. Even RECARO has gotten in on that action. But it's definitely the first time I've seen plexiglass used in the construction of a car seat.
So what are my thoughts? Eh.
I wouldn't own a car like this, as it's not my style. I also worry that the seats are both uncomfortable and unsafe. However, I recognize that I'm not the audience for such a vehicle, and that as a show car it will seldom be driven.
I applaud Ultimate Audio for their originality. They had a wild customer who wanted a wild interior and they came through in spades. That's what counts!
What do you think? Share with us your thoughts in the comments section below.