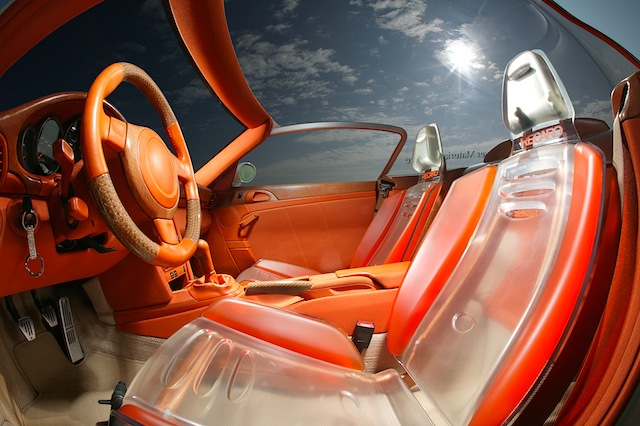 Swiss automaker Rinspeed is renown for its cutting edge designs and often outlandish concepts. From inflatable upholstery to stand-up seating, they're not afraid to try anything — which, of course, is why their introduction of transparent Recaro seats doesn't shock us in the least.
The Rinspeed zaZen, which debuted at the 2006 Geneva Motor Show, was one of the first cars to truly embrace the idea of transparency as a form of design. As such, the vehicle features a fully transparent roof dome, a "crystal skin" exterior finish that consists of millions of tiny Swarovski crystals protected by a polyurethane clear coat, and other subtle, yet audacious, elements that align with its glassy theme.
Among our favorite components is the zaZen's translucent seats — which were designed in partnership with Recaro and feature transparent plastic seat shells covered in Technogel upholstery, which is said to be every bit as comfortable as it is see-through.
Not only are the seats eye catching, but functional too. Install these Recaros in your vehicle and you'll never again lose anything under your seats.
For more photos of the Rinspeed zaZen, click here.