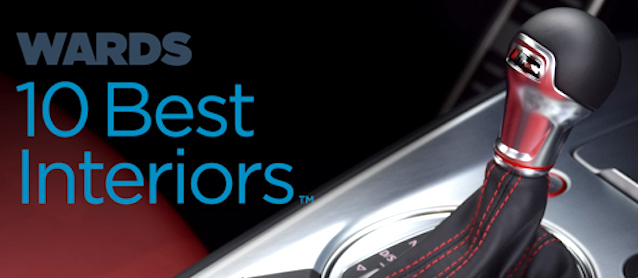 With its annual Interiors Conference just weeks away, WardsAuto has announced its list of the auto industry's "10 Best Interiors." Although last year affordable cars with spartan cabins dominated the lineup, this year the interiors selected are all decidedly upscale.
Of course, luxury automakers — including Audi, BMW and Mercedes-Benz — are featured on the list. However, other marquees not typically associated with luxury also made the cut. WardsAuto attributes the presence of winners like Chevrolet and Honda to the "brisk pace of product development in the premium segment" and the "popularity of aspirational vehicles in the strong U.S. market."
In a press release, WardsAuto further explains:
In years past, as many as three luxury brands have been recognized on the list. This year, one could argue all 10 honored vehicles lean toward the luxury side of the aisle, as the Camaro, Civic, Maxima and Pacifica integrate lots of soft surfaces, upscale materials, warm ambient lighting and the latest connectivity and safety features typically found in premium cars.
The 10 winners — listed below in alphabetical order — were selected from a pool of 47 vehicles driven by WardsAuto editors who scored and ranked them based on ergonomics, safety, comfort, value and fit-and-finish.
Audi TTS
BMW 7-Series
Cadillac XT5
Chevrolet Camaro

Chrysler

Pacifica

Honda

Civic
Lexus RX
Mercedes-Benz GLC

Nissan

Maxima
Volvo XC90
The winners will be honored at next month's WardsAuto Interiors Conference in Detroit, Michigan. For interior photos, as well as a detailed explanation of why WardsAuto selected these 10 models, see the "Ward's 10 Best Interiors" web page.