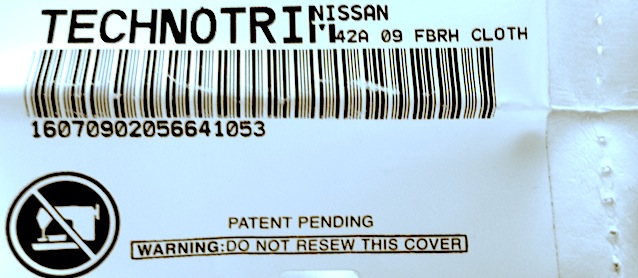 For many years, there has been confusion within the auto upholstery industry over whether it is safe or even legal for trimmers to repair seats that contain side airbags. Well Nissan has made it clear by attaching the above warning label to its seat covers.
Many automakers, like Nissan, install airbags within the driver and front-passenger seats beneath the backrest bolster facing the door. In the event of a side-impact collision, the airbag deploys – bursting the foam and splitting the unenforced French seam that holds the cover together.
While insurance companies cover the cost of new backrest seat covers, the collision repair shops that often outsource the work to local trim shops ask that we merely re-sew the open seams in order to increase their profit margins.
The problem with doing this is that we cannot guarantee that the new airbag will deploy properly if another accident occurs. Some suppliers sell "airbag thread" for such cases. But ultimately the responsibility of whether the seam opens when it needs to falls on our shoulders.
Needless to say, I'm hesitant to take on such jobs. If a seam I make doesn't open when it's supposed to and a driver or passenger is hurt, the ensuing lawsuit could bankrupt my family business and shut me down for good.
Well Nissan's new warning label – which reads: "WARNING: DO NOT RESEW THIS COVER" – puts an end to the question over whether we should or shouldn't take on such jobs.
On one hand it's a relief to finally know the answer. On the other hand, it really stinks.
Nissan could just as easily do as some automakers and place its side airbags in its vehicles' door panels or in plastic compartments located on the side of the seats. Doing so would provide similar protection in the event of an accident and still make it possible for auto trimmers to repair their seat covers.
But because Nissan chooses to install its side airbags inside its seats, we have to tell customers – even those with minor repairs – that they must order a whole new cover. Not surprisingly, the price of doing that often deters them from ever coming back.
With more and more automakers following Nissan's lead, it seems that there may come a day when we're prohibited from doing anything but installing ready-made seat covers.