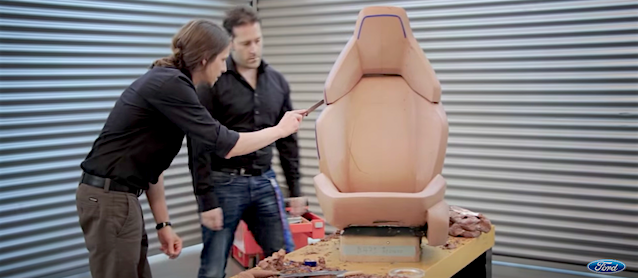 After a car seat is designed but before it's ready for mass production, automakers turn to the old tradition of clay modeling to transform their illustration into a three-dimensional prototype.
The following two videos take viewers inside Ford Motor Company's clay-modeling department at its design studio in Cologne, Germany. Watch as their artists create a stunning clay sculpture of a bucket seat and learn how it aids in the vehicle design process. It's truly a work of art.
In this first video, professional clay modeler Damian Lottner describes the process by which he molds hot mounds of clay into an incredibly detailed sculpture. Lottner's talent is as great as his passion for his craft.
"Many people are amazed when I explain my job to them, because there is a perception that designing vehicles today is a computerized process and that traditional skills like clay modeling are no longer needed," Lottner said. "In my opinion there is no replacement for what we do, both in terms of the speed that we can progress designs and the ability to see, touch and truly experience a design in the flesh."
In the second video, group leader Mike Gasteier explains the importance of clay modeling in the design process and what he enjoys most about his job.
"The thing I love about clay modeling is bringing the design to life," he said. "At the end of the day I want to see the interpretation of the sketch of the designer on my three-dimensional clay model."
Like auto upholstery clay modeling is a craft and an art. It's great to see traditional arts still going strong in this digital era of automotive design.